Jade Rhodes, the new assistant coach of the Eastern New Mexico University softball team, is "humbled" to join the Greyhound group.
"I love my job because I get to help these girls get better and teach them a new level of softball they might have not known before," explained Jade, who is from Sarasota, Florida.
She graduated from Auburn University with a bachelor's degree in public administration and worked as a compliance and event manager in their athletic department. She was also part of the Fellowship of Christian Athletes and a member of the Make-A-Wish Foundation. She volunteered at the local children's hospital, where she read story books to children who suffer from cancer.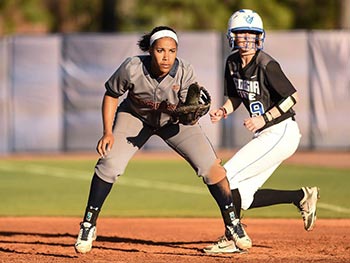 Jade played in the National Pro Fast Pitch League for two consecutive years. Her first year she played with the Pennsylvania Rebellion and her second year she played with the Scrap Yard Dawgs.
Throughout her childhood, softball was a huge part of her life. Her parents were fully supportive of her. Since she was 10 years old, her mother attended every game.
Jade said that her mother is the one who influences her as a role model. She said, "My mom raised me to be the best women and athlete I could possibly be."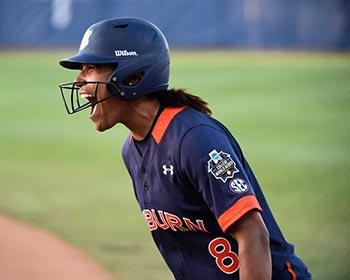 At Auburn University, Jade accomplished having the single season record with 20 homeruns. She also made the NFCA 1st Team, ALL-Southeast Region, 2nd All-SEC, WCWS All- Tournament Team in 2016, SEC Player of The Week in April 18, 2016, SEC All- Defensive Team 2016 and NFCA 3rd Team All- American 2016.
Jade was drawn to the position at ENMU because she was attracted to New Mexico and small athletic teams willing to compete.
"My favorite thing about ENMU is that everyone supports every sport. In other areas, sports are treated different and there is a bias toward a specific sports team," explained the assistant softball coach. "ENMU Athletics strives to build a community that encourages all sports teams and students to support each other. I love that the ENMU students and athletes support each other's sporting events, and that means a lot!"
Jade's goal is to make it to post season with the softball team. She also hopes to be successful in the LSC tournament so they can make it out of regionals.
"These goals are set high for the girls, but I expect them to push themselves to the limit to be the best. I enjoy coming to work every day knowing that I have girls that are going to come to practice and work hard and give me all they got."