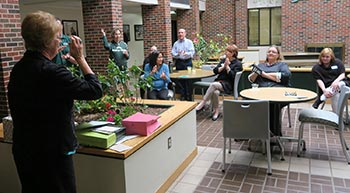 Betty Dever retired from her position as a financial aid specialist at Eastern New Mexico University after 22 years of employment on Oct. 1.
She worked with default aversion, which includes "Peanuts to Prosperity" money management presentations, in-person exit counseling and sending letters to former students who are delinquent on their student loan payments. She also processed "unusual enrollment history and transfer monitoring and other jobs as designated."
Betty's retirement plans include "resting for a few days then getting busy — with home projects, traveling, church work and spending more time with my mom, children, grandchildren and great-grandchildren."
What she enjoyed most was seeing students "earn their degrees and move on to be successful in their lives.
"During my time in the Office of Financial Aid, I had the opportunity to network with others in the financial aid arena at the state, regional and national level," Betty said. "I made many friends over the years, from my coworkers to those that I met through conferences or workshops. They are a great group of people and 'they always run in packs.' That's an inside joke."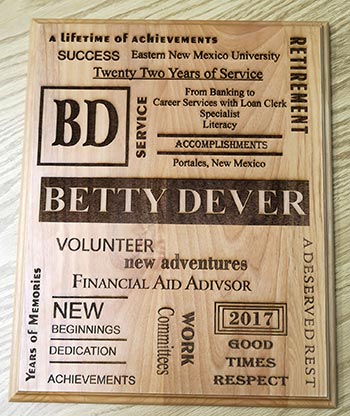 Betty added, "Since I have always loved shoes, I also enjoyed seeing 'The Shoes of Graduation' video in the 'Greyhound Gazette.'"
Before ENMU, Betty worked at the Harris' Store for Men in Portales for 3 1/2 years. She says she enjoyed the retail business and the people of Portales.
She worked at a bank in Portales for 12 1/2 years. While she was there, it changed names from the First National Bank to United New Mexico Bank to Norwest Bank. Her positions included bookkeeper, teller, assistant cashier and assistant to a vice president.
One of her jobs was to counsel students concerning student loans. That gave her the idea to apply for a job in financial aid at Eastern, "and the rest is history."
Betty's roots are in the Portales area. Her family moved to the Arch community while she was in junior high and she graduated from Portales High School. She was in the choir for three years and was a member of the National Student Honor Society.
She married after high school and raised two children in Portales.
She received an associate degree in general studies from ENMU in May of 1999. Her daughter received her bachelor's degree at that same time. They walked in that year's ENMU spring graduation ceremony together.
Betty completed her Bachelor of Science in May of 2003, with a major in sociology and minor in religion.
After spending 22 ½ years at ENMU, she considered the University her second home. She says she was proud to have worked "in such a fine educational institution, whose reputation is known throughout the state and the nation by the former students who received their education here."
Betty says she will miss her co-workers/friends and the students who made her job possible.
Her hobbies include spending time with family and friends, eating and watching movies.
Born in Rhome, Texas, Betty raised in the Dallas suburb of Irving, Texas.
Her parents and their three kids moved to the Arch community in January of 1964 where her dad began farming.
"We kids helped with the farming chores," Betty said. "We moved irrigation pipes, hoed weeds in the summer, cleaned trash from the peanut crop during harvest, drove a tractor and other designated jobs."
Betty's daughter and son-in-law live in Canyon, Texas, and her son and daughter-in-law live in Lubbock.
She has seven grandchildren and 11 great grand-children. "They are all smart and good-looking," she joked.
Betty's general philosophy of life comes from the Bible: "I can do all things through Christ who strengthens me."