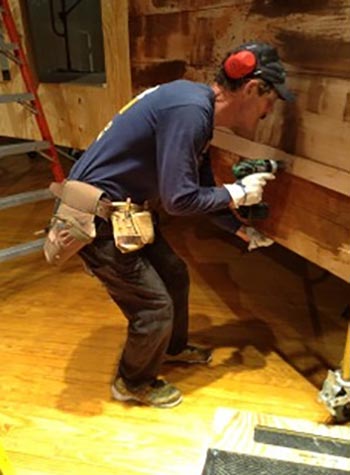 Patrick McCreary is Eastern New Mexico University's Renaissance Man.
Not only is he an instructor, technical director and designer in the Department of Theatre and Digital Filmmaking, but he also he performs one-man shows around the country and competes in grueling triathlons.
His job duties include working with students on designing/building theatrical sets, lighting, costuming, play directing and teaching technical classes.
Before coming to ENMU, he was an assistant professor of design, technical direction and play/musical direction in the Department of Theatre and Dance at Principia College.
Now in his third year at Eastern, he "enjoys helping to build the department and increase enrollment with new and fresh approaches to teaching, play selection, upgraded facilities and providing students with new opportunities to learn and to grow along with the department."
Mr. McCreary says the least favorite of his job responsibilities is all the paperwork necessary to parse out data on student learning themes, progress and exit interviewing.
With 40 years of professional acting, directing, producing and stage management, Mr. McCreary brings an industry-standard technical expertise to his work.
He continues to tour with his one-man show on Abraham Lincoln, which he authored. The show includes his portrayal of Lincoln assassin John Wilkes Booth, prerecorded on film, as the two converse.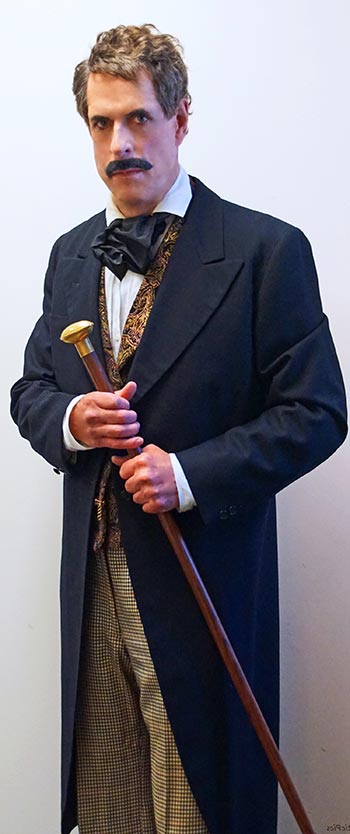 He has made appearances on local and national television, including PBS and the History Channel, and has performed in New York, Chicago, Washington, D.C., Atlanta, Los Angeles and many other places across the country.
Mr. McCreary was hired by the Alliance Theatre of Atlanta, Georgia, to start a new children's theatre touring company — writing, acting and serving as tour manager. As a member of the Atlanta Opera Company, he was featured on an Italian performance tour.
He has made appearances before three former presidents: Carter, Reagan and Bush '41.
He has managed and directed several regional U.S. theatre tours.
Self-employed in a children's theatre company, he was the founder and producing director of a regional theatre/theatre school for 13 years, which is still in operation and won a Governor's Award of Excellence.
Mr. McCreary has been a triathlete for 29 years, with 200 races throughout the United States and internationally as a member of the U.S. Triathlon Team.
He has been a three-time second-place winner at the U.S. National Championships and second-place winner at the 2011 International Triathlon Union World Championships in Beijing China, competing as an amateur age-grouper. Also, he has earned titles in road running/trail running and marathons.
Despite his international travels, Mr. McCreary is impressed with ENMU and Portales.
"Portales is one of the best-kept secrets in the United States," he said. "The high quality of professional staffing, quality of education and commitment to cost-effective operations continues to make Eastern a positive, life-changing experience for thousands of young people, many the first in their family to achieve a college education."
"Mr. McCreary says it was a "great joy singing and performing with the ENMU University Singers and touring Europe with them last summer."
Having visited major cities throughout the world, Mr. McCreary says he has "come to appreciate Portales as a refreshing oasis from all the clutter and unnecessary complication and temptation that larger, more expensive cities may offer. Simplicity, basic civility, kindness, genuine fellowship, watching out for one's neighbor and shared responsibility are valuable life lessons with a heightened emphasis in our setting."
He began high school in Georgia and finished in Ohio, where he was introduced to theatre and music. He majored in theatre in undergraduate school and received his terminal (MFA) degree in theatre in graduate school. Additional training includes a two-year study resulting in a "Master Mime" and considerable work as a stage combatant.
He says the variety of jobs he has held "is an actor's friend, as can be a liberal arts education."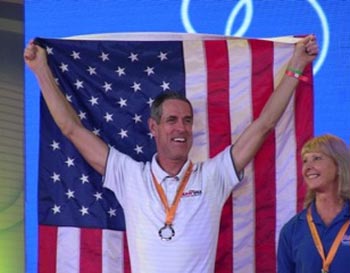 Jobs have included waiting tables, managing a restaurant, groundskeeper at a resort hotel, Home Depot, chauffeur/cook for the son of the chairman of General Motors, landscape design, assisting in the startup of USA Today while on the staff of Gannett Chairman Allen Neuharth, selling eggs on a bicycle, building worker and contractor, gas station attendant, babysitter and personal trainer with the YMCA.
His career goal for years "has been to use what skill sets I may have and apply them where they will be the greatest blessing for mankind."
His most passionate hobby is participating in triathlon competitions. He is also an amateur historian, a regular contributor to religious programming and "seeking the best of what other people have to offer."
Mr. McCreary says his "happiest moments include really connecting with audiences as Lincoln who has much to teach us all in trying times. Another incredible moment was learning that I had taken second place for the United States in a triathlon in China.
"My saddest moments come in failing to live up to all the blessings I am given on a daily basis. But that sadness is short-lived by refocusing and recommitting in that moment to do better."
Born in Niagara Falls, New York, he was raised in Atlanta, Georgia, and Sharonville, Ohio.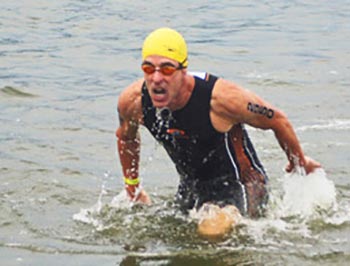 Mr. McCreary has five siblings "whom I never remember quarreling with and though, perhaps, being classified as lower-middle-class, had two working parents who were always supportive of our interests and aspirations in providing a neutral, unfailingly loving home environment.
"Even though they could not afford to send any of us to college, four of us took multiple jobs to make that education happen and the remaining two took separate paths — one into successful contracting and the other as chief of the California Highway Patrol."
Mr. McCreary says his philosophy is to "think none evil, to speak none evil, to do none evil."
He says there is so much to share about the meaning of life.
"Perhaps one of my favorite quotes comes from nineteenth-century religious writer/leader Mary Baker Eddy, who wrote: 'As a drop of water is one with the ocean, a ray of light one with the sun, so, too, God and man, father and son, are one in being.'"
Mr. McCreary says "given the luxury of honest and humble reflection, all people will realize that nothing of real consequence separates us. We are all children of one supreme power, created in His/Her likeness, and that likeness is good."