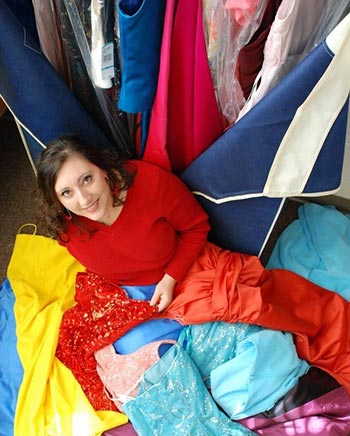 Tyleen Caffrey, an instructor of social work at Eastern New Mexico University, runs Monarch Formals, a non-profit agency located in both Kansas and New Mexico that provides formal attire access to individuals regardless of their financial situation.
Monarch Formals donations are accepted year-round and include items such as dresses, suits, tuxes, shoes, jewelry and accessories. Drop-off locations and more information can be found on the Monarch Formals website and Facebook page.
She was inspired to start Monarch Formals based on her experience of entering foster care a few weeks before her junior prom. Her foster mother, a seamstress, made her a dress. During her time as president of the Student Association of Social Workers while in graduate school at the University of Southern Mississippi, Mrs. Caffrey initiated and led a prom dress project that collected over 500 dresses, $2500 in donations and several donated services. She continued the program, which evolved into Monarch Formals.
Mrs. Caffrey started her undergraduate education studying music before switching to social work after her first six semesters at Pittsburg State University.
"What I originally was going to do was music therapy. My struggle with piano veered me away from music," said Mrs. Caffrey and, "I decided to pursue my degree in social work and got the minor in music.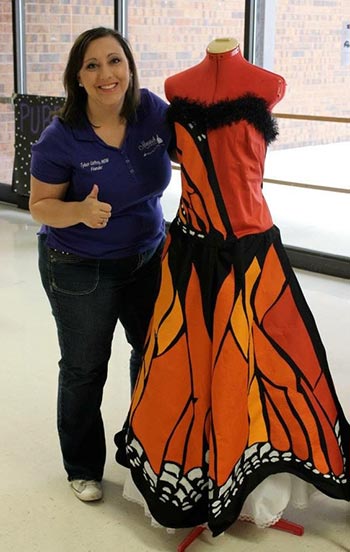 "Everyone goes into their field for a reason, but I worked in social work for many years while I was pursuing my degree in music. I decided social work must have been the field for me. I grew up in foster care, so I knew a lot about child welfare," said Mrs. Caffrey, who received her bachelor's degree in social work at Pittsburg State University.
Some of the things which drew her attention to her current position as an instructor at ENMU were the opportunities to teach the next generation of social workers and provide them with details about real-world experiences in the field.
"I wanted to work in higher education for quite some time now. I have been in the field for over 20 years and so the opportunity to teach the next generation of social workers was definitely appealing," said Mrs. Caffrey, who also has a certification in "Non-Profit Management."
One of the parts she enjoys most about her job is teaching. "I really enjoy curriculum development and tying in real-world experience into the classroom. I think it is more important or is just as important to bring that knowledge into the classroom than teaching out of a book. Students learn when the instructor has actually been out there and done it. In the social work field, we work with people; we are working with people's lives," explained Mrs. Caffrey, who would like to incorporate a non-profit curriculum that would allow students to see what it takes to run a non-profit agency.
"My favorite thing about ENMU is the student-instructor interaction. I think because we are a smaller campus that instructors have a more of an opportunity to actually know the students. It's not like a big school where you have hundreds of students you never know. I like what President Elwell says about the 'Greyhound Connection.' We're really trying to help students succeed."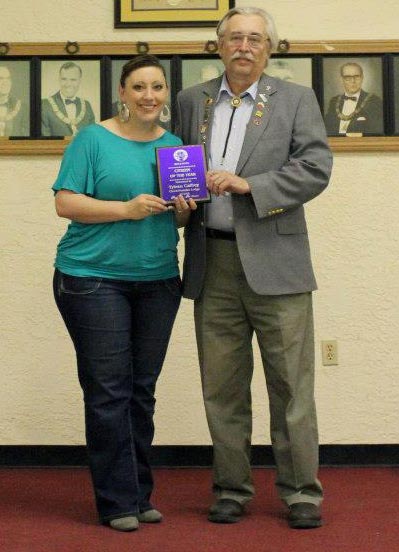 Mrs. Caffrey is involved with several organizations including the ENMU Social Work Club (as a faculty advisor), the Bugles Across America, Foster Care Alumni Association, Non-Profit Leadership Alliance, the Association of Certified Non-Profit Professionals, the National Association of Social Workers (serving on the board for New Mexico chapter), the Elks Lodge #1244 and the VFW Auxiliary Post 3280.
The instructor is applying for a doctorate's degree program. "I'm actually finishing up my music degree. After all those years of not finishing my degree, I went back. I am taking classes in addition to teaching three classes. I'll take two classes in the Music Department. Next semester, I will start my 'Senior Project,' which will be my research."
Before working at ENMU, she was teaching as an adjunct in the social work program at Pittsburg State University. She worked at a child welfare agency, spending most of her career in child welfare. She worked nearly six years at Cannon Air Force Base in the Family Advocacy Program, then transferred to the Exceptional Family Member Program as the special needs coordinator. She has also worked in nursing homes and mental health agencies.
She worked as a field liaison last year at ENMU, monitoring and helping students in the social work practicum.
The instructor has received many awards, including being honored as "Citizen of the Year" by the Elks Lodge #1244 in 2013 for her non-profit organization, being named "Social Work Student of the Year" by the University of Southern Mississippi and being named "Claire Nowlin Social Work Student of the Year" by the Mississippi Chapter of the National Association of Social Workers.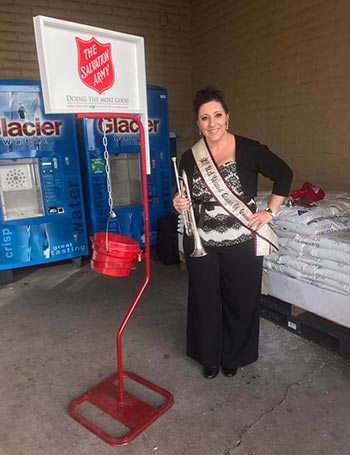 Some of her hobbies include playing the trumpet and performing in the Clovis Community Band, singing in the Clovis Community Choir, pageantry, modeling, volunteering and working at a radio station as an on-air radio personality. She loves music, scrapbooking and playing softball and volleyball.
Mrs. Caffrey considers Pittsburg, Kansas, home. She graduated high school in Missouri. She has three biological brothers. She had contact with her biological mother, brothers and extended family while she went through foster care.
Her foster care mother worked as an administrative assistant for a feed company and her foster care father had a dog kennel where he raised dogs.
Her family, including her husband, Ed Caffrey, grandma and two rescue dogs (a Bassett Hound named Artie and a Basset-Beagle mix named Reba) recently moved to New Mexico. Her husband will begin teaching in an adjunct position at ENMU this spring.
The most influential person in Mrs. Caffrey's life is her grandmother, Carole Mitchell. "She's survived World War II and the trauma that came from that. She's had a pretty tough life and has overcome quite a bit. She's been a widow since 1977, so just a constant struggle. She'll be 83 this year, and you wouldn't know it. She is still very independent."
Mrs. Caffrey calls herself a "Cruise Guru," because she loves going on cruises. She has been on eight so far to several locations, including Cozumel, Belize, Bahamas, the Caribbean and the East Coast. She enjoyed visiting England after getting the opportunity to visit the country on a choir tour.