Ever wondered how a certain computer program works or how to make the most of the technology on-campus? David Sanchez is here to help! The new technical trainer for the Office of Information Technology Services (ITS) trains Eastern New Mexico University administrative personnel on the use of computer software. He is primarily responsible for developing training programs related to IT and coordinating technology-based training sessions for the software and technology used at ENMU.
David serves as a liaison between ITS and users, gathering information for the use of current technology and evaluating new technology needs. He can train on technology matters generally, but when it comes to detailed process and procedure, such as how to carry out the steps of a process in part or whole, the owner of the process is in charge of training for that. The technical trainer is available as an auxiliary if the department which owns the process gives him clearance to train on that process.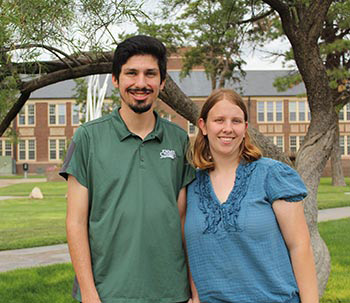 He was drawn to the position based on his experiences as a student worker in ITS and the College Success Program, where he served as a peer mentor, data assistant and office assistant.
"I saw that there was an opportunity to increase technological integration across campus, especially on the software side," explained the ENMU student, who is pursuing a bachelor's degree in political science, criminal justice and computer science. He felt the combination of his fields of study would help him "uniquely approach that effort."
David, who was named the "ENMU Political Science Student of the Year for 2017-18," said his goal for the position is to use the "synergy" of his majors to "demystify nuances of computer use and, through training, enable all of our community to be as capable as the 'Power Users' mentioned in ENMU institutional lore."
He wants to "tear down that curtain of OZ so that every member of the ENMU community can be technologically enabled, adept and encouraged."
His favorite part of the job is the opportunity to help others. "I deeply enjoy helping people, and am very happy the entirety of this job allows me to do exactly that," said David, who often volunteers to help lower-classmen in the Computer Science Program learn to code. "I always enjoy aiding in programming endeavors, and love when students in the University Computer Center ask for help when they are working with Python or Java."
The Greyhound loves the seasonal beauty on-campus, watching the trees shift through spring, summer and autumn. He often takes landscape photos of the campus and finds the flora to be "continually picturesque."
His hobbies include nature photography, mountain hiking and coding in Java, Python, SQL and Julia. He also likes playing video games, especially Skyrim, Zelda, RPGs and space exploration games.
His favorite places that he has traveled are Yellowstone National Park, the Oregon forests, the MIT Museum and Quincy Market in Boston, the Smithsonian Institute and Kitty Hawk, North Carolina. "My heart will always be in the Rockies of Colorado though, which I love to hike and camp in," said the ITS technical trainer, who has visited 27 states.
David has moved all over New Mexico but considers Roswell to be his hometown. His mother is an elementary teacher with an emphasis on K-2, and his father has worked for the State of New Mexico in a law enforcement-related capacity for two decades. He has two younger brothers, Ben and Nathan.
"I am happily married to Savannah Colleen Sanchez," David shared. "We had our one-year anniversary in June of this year."
His role models are hackers from the 70's and 80's, with the "original understanding of the term, skilled digital pioneers." Those figures include Marvin Minsky, Stephen Wozniak and, more modernly, Linus Torvald and Satoshi Nakamoto.
"They to me are the digital equivalent to homesteaders of old; they all ventured out into unexplored digital space and made monoliths out there that changed their field and often times the world," explained David. "That is a strata of skill I strive for and hope someday I might be able to approach."