Alla Parsons, a new assistant professor of art focused on two-dimensional studio art at Eastern New Mexico University, aspires to continue to develop as an artist and hopes to grow number of students in the Department of Art. She was drawn to the position at Eastern because it "sounded like a perfect match with my skills and interests."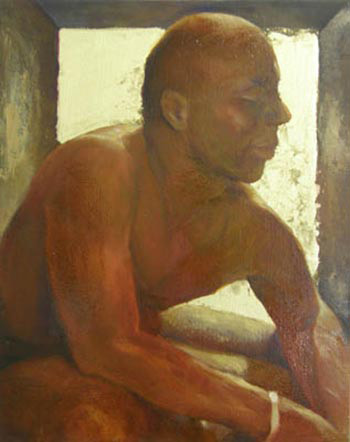 She is responsible for all levels of drawing and painting classes, including figure drawing and watercolor, and oversees the "Figure Drawing Night" hosted by the Arts, Creativity, Education and Design (ACE+D) art club on campus.
The highlights of her job include seeing how her students "progress and develop" and working with a "great group of colleagues." She enjoys the ENMU community, especially the "extremely positive relationships between people."
Alla graduated with a master of fine arts degree (MFA) from Georgia Southern University in 2011, a bachelor's degree in fine arts from Minnesota State University in 2007 and a master's degree in history with a minor in English as a second language from Petrozavodsk State University in Russia in 1990. She studied at the doctoral level in American history in the Russian Academy of Sciences' Institute of History in Saint-Petersburg, Russia, before political changes in the USSR interrupted her studies.
Before starting at ENMU, she was an assistant professor and director of Fine Arts at South Piedmont Community College in Monroe, North Carolina. She served as an adjunct instructor at Averett University, Forsyth Technical Community College and Rockingham Community College. She has also held several other teaching positions in higher education and served as a museum guide for Kizhi Museum and Malye Karely Museum in the USSR/Russia.
Alla reflected on her lifelong love of art:
"I began drawing and painting from my earliest childhood. It was my way to express myself and my emotions and to communicate. I wanted to become an artist but did not feel confident enough to choose it as a profession right after high school.
"In part what prevented me from going into art as a profession was somebody mentioning [something] to me when I was about fourteen years old. I heard that there had never been great women artists. Ironically, later I found out that in the 60s in the USA there was an article published by a feminist art historian, Linda Nochlin, titled 'Why There Had Never Been Great Women Artists.' The article explained how women were historically excluded from art as a profession, and I bet it was very insightful to women artists to read it.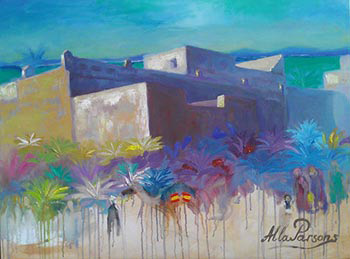 "However, the same words as the title of that article created the absolutely opposite effect for me in the 80s in Union of Soviet Socialist Republics. I observed that in 'real life' all the 'great artists' around me indeed were men, especially those who chose to join the Communist Party and paint portraits of party leaders in the style of Social Realism. I gave up on the idea of being a professional artist at that time. That is why you see my first degree in history and English.
"But life changed for me when I met my husband Michael and moved to the United States to live with him. He encouraged me to follow my childhood dream of becoming an artist and supported me as I pursued my degrees in art."
Alla, who has had her art featured in many shows in the United States and internationally, recently received first and second-place prizes for her artwork in the Roosevelt County Fair. Before that, she won first place at the Mint Hill Plein Air Exhibition and in the art show at the Charlotte Artists League, both in North Carolina. Her artwork was published in the catalog of Fantastic Art by the Museum of Fantastic Art, known as the Phantasten museum, in Vienna, Austria.
She recently joined an organization called the New Mexico Plein Air Painters, who meet on a regular basis for "paint-outs"-painting on the open air. "I have been in several paint-outs with them already since I moved here this summer. Also, I am hoping to get involved with a local artists group – Pintores Art League," she said.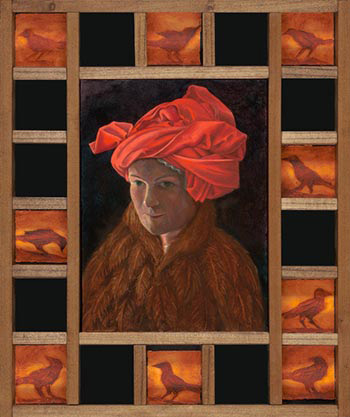 Her family lives in Petrozavodsk, which is the capital city of Russia's Republic of Karelia. "It is in the north of Russia, on the shore of a very beautiful lake, and it is very cold in the winter," said Alla, whose brother is a computer programmer. Her 82-year-old mother is a retired engineer and has her Ph.D. Her father passed away in 2001; he also was an engineer with a Ph.D.
Alla was originally born in Asia, and later moved to Europe when she was older. She now lives with her husband, Michael, who is an avid road bicyclist and is looking for people to bicycle with him in the Portales area.
She shared that her role model is her grandmother. "Left without parents after the Russian Revolution of 1917 when she was still a teenager, she found herself as an elementary school teacher," explained Alla. "She gave a great education to her children and took care of me when I was little. Her dedication to teaching and learning always was and will be my inspiration."
Alla loves to travel. She has visited Europe and Hawaii, which she said was "probably the most beautiful place I have seen." She has also visited Tunisia, North Africa, and considers it to be very beautiful. She was inspired by its bright colors and light.
She has travel plans for next summer: "My husband and I are going to visit Florence, Italy, where we have been several times, but they're so many things to do and re-visit, but it is never enough time. Also, we are going to see Naples and Pompei, where we have not been before. In addition I will take a workshop on figure painting at the Florence Academy of Fine Arts.
An interesting fact about the assistant professor of art is that Mikhail Gorbachev, the last president of the Soviet Union, watched her sing from the stage in the Moscow Kremlin as a part of a big chorus.