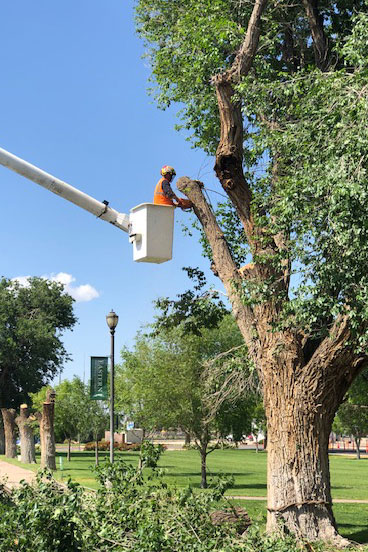 This week, Eastern New Mexico University-Portales will remove 21 Siberian Elm trees from campus grounds near the Administration Building and Guadalupe Hall as a safety precaution.
"We've known over the years that these trees were getting in bad shape," Director of the ENMU Physical Plant John Kanmore said. "During the high winds we had last week, four of the Siberian Elm trees had limbs blow off of them. When the physical plant went to clean them up, we observed that the limbs were rotten on the inside."
ENMU employed Cut it Right Tree Service & Landscaping to examine and potentially remove the trees. The company provided video evidence showing the Siberian Elm trees were up to 90 percent rotted and decayed, and had exceeded their life expectancy. Eastern New Mexico University decided to have Cut it Right Tree Service & Landscaping remove the rotted trees to mitigate potential safety issues caused falling limbs from the dead and dying Siberian Elms.
Five years ago, the University planted Pistachio trees to eventually become the replacements for some of the older trees on campus. Pistachio trees are a native desert tree well-suited for areas where summers are long, hot and dry, and winters are moderately cold. Additionally, Pistachio trees have been known to live several hundred years and grow to a maximum height of about 33 feet.
According to ENMU, removing the dying Siberian Elms will also benefit the growth of the younger Pistachio trees as the young trees will have a better opportunity to flourish without competition from the older, rotting trees.
For further questions, please contact ENMU Physical Plant Director John Kanmore at 575.562.2511.