"I have always been interested in music," says Dr. Pamela Shuler, an assistant professor of clarinet at Eastern New Mexico University. "As a child, my mother was always looking for ways to expose and get my siblings and me involved in the fine arts. When I first started playing clarinet in fourth grade, I quickly realized that if I worked hard enough, I could see the results for which I was working. The challenge music provided was very appealing. I also very much enjoy teaching others and guiding them on a path to find their own musical voices."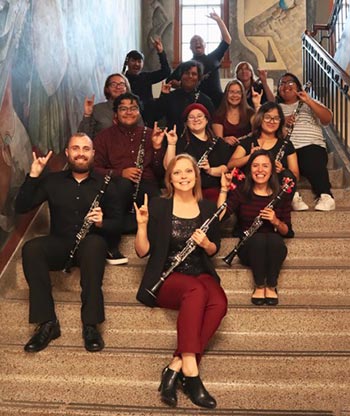 Dr. Shuler brought her lifelong love of music to ENMU, where she teaches several classes, including "Applied Clarinet," "Music Theory I," "FYEX" and "Clarinet Ensemble." In her position, she aims to encourage a deeper appreciation and understanding of music for her students. She also hopes to be a connection for people on campus and in the community to bring them to recitals and events in the Clarinet Studio.
"I love my job because I get to hear the improvements and progress that the students regularly make. I love that my colleagues are willing to make music together and bounce ideas off of each other. I also love that I have the opportunity to learn each day, be that exploring new techniques with my private students, hearing new music, attending a lecture or taking part in any of the many other opportunities that are available on this campus," explains Dr. Shuler.
"I love how much this University offers to students and the community. In my opinion, the students I get to work with are one of my favorite things about ENMU. Having experience with a number of colleges and universities, I am thrilled by the opportunities that ENMU offers for students. I am very proud to be a part of that and to work with such talented, dedicated and supportive individuals in my department and across campus," she says.
She received her Bachelor of Music Education from Youngstown State University and her Master of Music and Doctor of Musical Arts from the University of Illinois in clarinet performance and literature. Her doctoral thesis and project focused on the history, style and clarinet writing in chamber ensemble music commissioned by Benny Goodman. Dr. Shuler graduated as a university scholar as an undergraduate and was awarded various teaching assistantships in graduate school.
Before becoming a professor at ENMU, Dr. Shuler was employed at K-12 public and private schools teaching music to students. After returning to school for graduate work, Dr. Shuler and her husband moved to Chadron, Nebraska, where she taught as an adjunct instructor at Chadron State College. She also worked in an adjunct capacity at ENMU with a one-semester appointment in spring 2019.
In 2017, Dr. Shuler's family moved to Portales when her husband was hired to teach trumpet and work as the assistant director of bands at ENMU. Since then, Portales has become home for Dr. Shuler, her husband, their two daughters and their two dogs, a rescued wire fox terrier and Scottish terrier. She began teaching full-time at ENMU this fall.
"I was very sad to see Dr. Jennifer Laubenthal, the former clarinet professor, move on to another position, but was excited to apply for a role that would let me become further involved with the Music Department and the University," she shares.
Dr. Shuler is a member of the International Clarinet Association. Recently, she was inducted as an honorary member of the Kappa Kappa Psi Beta Lambda Chapter. She regularly gives masterclasses in a number of school districts, and has been able to work within the schools her daughters attend.
As a musician, she has been able to play across the country and internationally. Her favorite places outside of the United States that she has performed in are Japan and Spain. She recently performed at a faculty recital and a concert with the Southwest Symphony Orchestra. She will be returning to the University of Illinois, one of her alma maters, to perform and present at their upcoming 2020 Clarinet Day.
"Many might not realize how small the music world is," she says. "I love getting to know and interacting with other musicians and drawing on their influences."