Blessy Joseph started as a wellness counselor for the Eastern New Mexico University Office of Counseling and Career Services this semester and is loving life as a Greyhound.
Blessy, who graduated from Southeast Missouri State University with a Master of Arts in Mental Health Counseling and a Bachelor of Science in Psychology with a minor in mathematics and served as a career counselor at that university, discusses her new role and how students can connect at the Counseling Corner.
What are your job duties as a wellness counselor?
My job duties include helping students using personal counseling appointments over the phone, via online video or in person. Additionally, I monitor and respond to students' texts received on the Text line, and occasionally on the crisis phone. As a wellness counselor, I also develop presentations based on requests from faculty, departments and student organizations, and manage the social media accounts for the department on Facebook, Twitter and Instagram.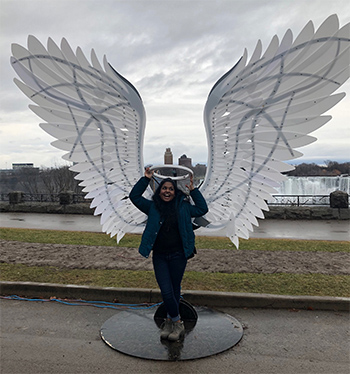 What drew you to this position at ENMU?
The first thing that drew me to this position was the job title, which highlighted the holistic nature of the job. I will get to work with the overall wellness of students.
What are some of the ways ENMU students can connect with Counseling Services?
Students can connect at the Counseling Corner by text, which is a newly launched 24/7 text line that allows students to reach out without an appointment. We are available on iMessage and WhatsApp for students who might be overseas needing to use this service. You can also connect with us by scheduling an appointment either over the phone, via online video or in-person. You can schedule this appointment by either calling our office at 575.562.2211 or filling out the Counseling Corner form. We also have a crisis phone that you can call 24/7 with emergencies or any form of crisis you will need to talk through. Remember, every situation is experienced differently by every individual in that situation; what might seem like a crisis to you may not be to another person, so don't compare and just reach out! Find more information on our website at enmu.edu/CounselingCorner.
What do you enjoy the most about your job?
I enjoy getting to work with college students. College is a time when students are learning to be independent, learning about themselves and figuring their future out. It is an exciting time to watch these students pull through and find themselves. It allows me to be not only a counselor but also an educator. I get to do that by doing personal counseling and programming to inform these students, so they have the skills necessary to be successful.
What goals do you have for your position?
I am motivated to emphasize to these students the importance of taking care of their emotional wellness, especially among students of color. Out of all of the dimensions of wellness, people fail to recognize the importance of paying attention to their emotions and mental health. As a wellness counselor, I want to raise awareness while normalizing seeking help for their mental health. I aim to provide them with the tools to cope effectively with increased creative programming and increased presence at University events and on social media. I want to meet these students where they are at.
What is your favorite thing about ENMU?
So far, since I've only been able to engage with students virtually, it is difficult to answer this question. However, I am excited to work in a small university where the small class sizes and the number of resources available to the students ensure that no student feels unsupported or alone.
Are you a member of any organizations? Volunteer work?
Moving to a new area during a pandemic can definitely hinder involvement. I've looked into a few volunteer opportunities that I would love to be a part of. In terms of professional organizations, I am a member of the American Counseling Association. I encourage every student to get connected with a professional organization related to their major. These organizations usually have a student membership option, which is inexpensive, and the resources and knowledge you gain are invaluable.
Tell us about your family and background.
I'm a Sri Lankan who was born in Oman and raised in Brunei. My parents are back in Sri Lanka. My dad is a recently retired pharmacist, and my mother was a stay-at-home mom. I have two younger sisters. One of my sisters is a chemistry teacher in Sri Lanka, and my youngest sister is currently studying in Chicago as a sophomore in college. I came to the United States in the fall of 2015 as a transfer student pursuing a BS in Psychology with a minor in mathematics. I went on to pursue my MA in Mental Health Counseling. I completed both my undergraduate and graduate degree at Southeast Missouri State University in Cape Girardeau, Missouri.
Who influences you? Who is your role model?
My parents are my role models. Their commitment to giving my siblings and me a good life, no matter how hard it may seem, has motivated me to go this far. They worked hard to make sure that I could achieve my dreams, no matter how big they might have been. I still remember when I first told my parents that I wanted to go to the United States to study, amidst financial difficulties, they didn't deny me my request. They made it happen, and I wouldn't be where I am today without their unwavering support. Additionally, I met an amazing leader while I was in graduate school; she was my supervisor when I was a graduate assistant, Sonia R. Rucker. Her work ethic and care for every student was inspiring. She taught me many things during my short time with her, including how to be a better counselor and educator.
Tell us about your accomplishments.
I believe my biggest accomplishment so far is graduating with my MA in Mental Health Counseling. It was a difficult program emotionally, but it helped me understand myself at a deeper level.
What are your hobbies?
My hobbies include music, be it playing the guitar, ukulele, piano, or dancing. I also enjoy looking up and cooking different recipes or recreating food from my culture while Facetiming my mother. And I'll be lying if I didn't say Netflix, I'm hooked on Grey's Anatomy.
Where are your favorite places to travel?
My favorite place to travel is Canada. I've been able to visit twice since being here, and I absolutely loved it. I believe the primary reason for loving Canada is because I have plenty of extended family there, so it feels like home. I also love traveling to Sri Lanka and visiting my parents.
Please share an interesting fact about yourself.
I would someday like to have gone skydiving. Right now, I am petrified at the thought of it, but it is on my bucket list.