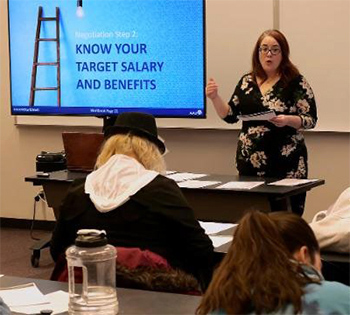 Fall 2020 marks Laura Wight's first semester as director of the Golden Library at Eastern New Mexico University.
Before moving to Portales, New Mexico, Laura was the director of eLearning and Library Services at Great Falls College Montana State University from 2010-20.
"After ten years at a small community college, I was looking to expand to a director position at a mid-sized university," she shares of her decision to apply to ENMU. "I had visited New Mexico previously and fell in love with the desert and the culture here. When I saw the position open up at ENMU, I felt it would be a wonderful fit for me professionally and personally."
The director oversees all operations and employees of the Golden Library and the Roosevelt County History Museum (RCHM). Her favorite part of the role is working with the employees from both areas, who she describes as "insightful, innovative and passionate about helping students and faculty.
"I feel incredibly lucky to be a part of their team," she says.
Her goal for the position is to "build a culture of collaboration and innovation" within the Golden Library and RCHM and align library work with the ENMU Mission. "This will enable us to efficiently and effectively provide outstanding services to the students, faculty and staff of ENMU," she explains.
Laura received a BA in Political Science and International Studies from Norwich University in 1998, an MLS in Library Science from Clarion University in 1999 and an M.Ed. in Curriculum and Instruction with a focus in adult and higher education from South Dakota State University in 2004. She served as an associate professor and reference and information literacy librarian for South Dakota State University from 2000-10 and an adjunct faculty member for the College of Education at Black Hills State University from 2007-13 and the Department of Education at Great Falls College Montana State University from 2015-20.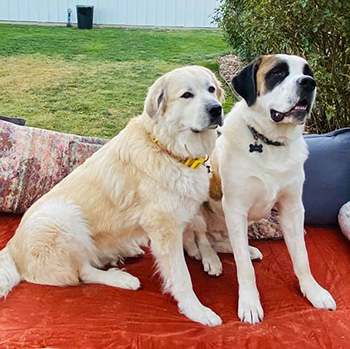 She was born and raised in Montana and attended high school in Vermont. She has four children (ages 19, 18, 15, 13) and two dogs.
When asked to identify her role model, Laura says, "The people who influence me and the people I admire the most are those who are working to improve the human condition for everyone."
She is a member of the American Association of University Women, the New Mexico Library Association and the American Library Association, and vice-chair for the Great Falls LGBTQ+ Center Board. She volunteers as a workshop facilitator for StartSmart Salary Negotiation workshops and for numerous organizations, including YWCA, Planned Parenthood, the United Way and Habitat for Humanity.
Laura's favorite place she has traveled to is India. She has also been to every state in the United States and several other countries. "I have traveled all over the world, and people in New Mexico are more truly genuinely friendly and welcoming than anywhere else I have ever been," she shares. "I love that about the culture of ENMU, as well."
Her hobbies include traveling, cooking, reading, visiting museums, attending concerts and getting to know local cultures. Some interesting facts about Laura are that she was on the fencing team during her undergraduate years at Norwich University, and she is a Humanist.
Are you looking for a reading recommendation? Laura says to visit her at the Golden Library located in the Golden Student Success Center to talk about books!