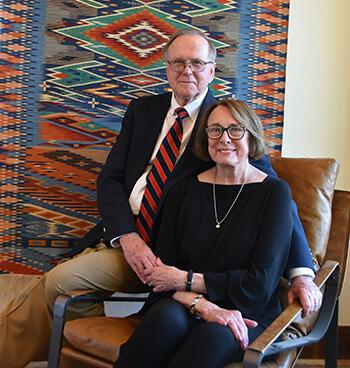 PORTALES, NM – May 27, 2022 – Thanks to a generous donation from ENMU Alumna Dr. Gay Su Pinnell (BA 66) of Dublin, Ohio, Eastern New Mexico University officially dedicated the new Casa Del Sol event facility on Friday, May 20, 2022.
The ENMU alumna, who grew up in Portales and became a world-renowned early childhood literacy education expert, purchased the property at 1401 West 17th Street in Portales in 2017. Pinnell fell in love with the adobe-style home built in 1948 designed by famous Santa Fe architect John Gaw Meem and known in the community as Casa del Sol (House of the Sun) located south of the ENMU Vetville Tennis Courts.
"I had fond memories of attending many dinners and receptions at Casa del Sol and in the beautiful backyard," Pinnell stated. She was struck immediately with the vision to renovate and modernize the home into an ENMU event space that includes two guest apartments.
"Casa del Sol has a very traditional New Mexican design, including the kiva fireplace as the center of the home. Historically, a kiva is a place for friends to conversate. I thought, 'wouldn't it be great if I could help ENMU by purchasing and renovating it to be a place for people to stay, be comfortable, and create a dedicated cozy environment for gatherings?'
"After all the renovations and patience over these past four years, we now have a serene, beautiful New Mexico home that is appropriate and safe for the modern-day and continues the tradition of gathering around a kiva," Pinnell concluded.
The Greyhound Family further impacted this project as the general contractor and the interior designer are actually ENMU graduates and sisters who hail from Portales. Megan Hamilton (BS 05), the general contractor, and Cassidy Self (BBA 07), the interior designer, helped renovate the property before and during the pandemic. They worked to stay true to the architect's original aesthetics, while reconfiguring the space for ENMU to host seminars, small gatherings, receptions, poetry readings, and many other education-related events.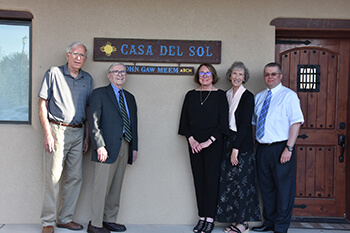 The property also includes two cozy apartments for visiting dignitaries, distinguished scholars, and guest artists. Many in the Portales and ENMU community are familiar with the home, formerly owned by Dallan (MA 69, BS 61) and Mickey Sanders, as it was used to host alumni and University events. Later, their daughter, Dr. Penny Sanders (BS 84), converted the home into a Bed and Breakfast before selling the family's beloved Casa del Sol.
ENMU President Dr. Patrice Caldwell stated at the dedication, "I'd like to say that the home was restored to its former glory, but it is better than it has ever been. We call it the House of the Sun, but we've since realized it is the house of a visionary and soulmate."
Lance Pyle, President of the ENMU Board of Regents, officially accepted the property on behalf of ENMU.
"I have no greater privilege as regent of seeing this homecoming of generosity from an alumna who sets ENMU on the road to being a better institution, more responsive to our mission and our legacy to teacher education," Pyle said.
"I didn't come from a famous place or go to a famous university. But I think this will become well known. It is good to be from here," Pinnell acknowledged. "People are solidly invested in collaborations to grow generations dedicated to helping this town thrive."
Several works of art by ENMU alumni are on display at the property. The Casa del Sol first welcomes visitors with the Kokopelli and Zia symbol dual image outdoor sculpture by Santa Fe artist and jeweler Danny "Woody" Woodward (BBA 82). Inside, an award-winning Navajo rug, created by ENMU alumnus and seventh-generation Master Weaver Irvin Trujillo (AS 74) from Chimayó, is prominently displayed next to the kiva fireplace. There is also an original watercolor portrait of Dallan Sanders painted and donated by Jill Bukowski (BS 82) of Hewitt, Texas.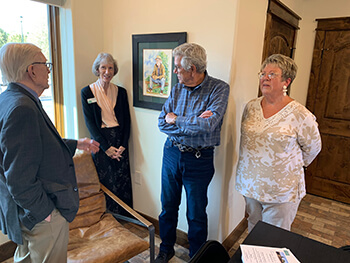 The home has been a part of the University's history since 1947 (only 13 short years after the campus opened). Former chemistry professor Dr. Bartlett Taggard Dewey and his wife Evelyn built the adobe home themselves as a place to entertain friends and enjoy being surrounded by gardens. According to the book Casa del Sol: A Dream House on the Llano written by Evelyn Grow Helm in 2001, the couple researched and sought out "the best architect they could find," who happened to be American architect John Gaw Meem IV. Mr. Meem who was based in Santa Fe and is best known for his instrumental role in developing and popularizing the Pueblo Revival style. He is regarded as one of the most important influential architects to have worked in New Mexico.
Contact:
Eastern New Mexico University
John Houser
Marketing and Communications
This email address is being protected from spambots. You need JavaScript enabled to view it.
Phone: 575.562.2123