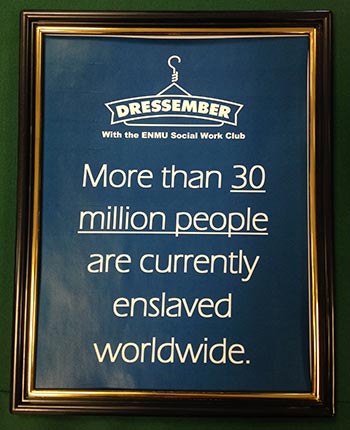 The ENMU Social Work Club set up a table and photo booth in the Campus Union (CUB) to kick off their Dressember campaign on Dec. 1.
Dressember is an organization founded by Blythe Hill, which challenges women to wear a dress and men to wear a bowtie every day of December to raise awareness about human trafficking. During the event, all club members showed up at the CUB in their dresses to partake in the campaign.
According to Darling Magazine, [Blythe] started the organization as a pun for wearing only dresses in December as a style challenge that eventually led to her utilizing the challenge for an anti-trafficking organization.
"Dressember is an international organization which is the foundation for bringing global awareness because they felt it was an issue that wasn't being looked at previously," said Tyleen Caffrey, an instructor of social work at ENMU who serves as the Social Work Club's faculty advisor.
Marla Duke, a member of the club, says last December she saw a few of her Facebook friends take part in the Dressember challenge online. She wanted to implement it into the club at ENMU.
"December is one of the coldest months of the year, so wearing a dress during December is significant," Marla explained.
The Facebook event page for ENMU Dressember indicates "it is time to reclaim [dresses] as a symbol of freedom and power; a flag for the inherent dignity of all people" because "to many people, dresses represent fragility, weakness and inequality."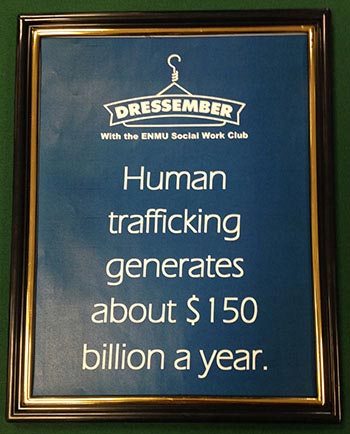 Marla mentioned the campaign to club members, and they decided to begin the awareness campaign the following year with hopes to continue annually.
Eden Borunda, vice president of the Social Work Club, said "This is our first launch. We are starting the awareness campaign of human trafficking because our club's goal [and mission] is to help you help others. Not many people are aware that human trafficking still happens, and even right here in New Mexico."
"The social work students are really looking at issues on a micro, meso and macro level, so bringing awareness to human trafficking and more specifically sex trafficking brings awareness on a more global issue," Tyleen said.
Marla attended a New Mexico health update conference in Roswell as part of her internship in October. During the conference, they announced the past year's statistics, which included over 2,000 cases of human trafficking discovered alone in New Mexico.
The Dressember event begins every Friday at 11 a.m. in the CUB Lobby. The club decorated their table with candy and handbills detailing the mission of Dressember and put up a photo booth with a large white curtain and framed statistics for peers to hold up.
On the first day, over 30 students, faculty and staff posed at the photo booth wearing dresses to raise awareness and show support. In addition to raising awareness, the club is also raising funds for survivors of human trafficking.
Even if you are not on campus, you can still be a part of awareness and event by wearing a dress or tie every day of December, taking a photo, posting on Facebook and using the hashtags #ENMUSocialWorkClub and #Dressember.
To find out more information, visit the Dressember Facebook event page.