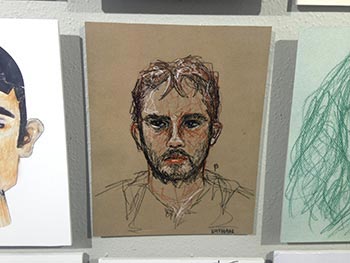 One day, six hours, eight art majors and over 200 portraits of students and employees that just happened to be in the Campus Union (CUB) last semester. Gallery Manager Bryan Hahn launched the Face It! Exhibition last year, which is an annual portrait-drawing event and gallery hosted on campus.
Bryan picked eight students within the Department of Art to participate in the exhibition during the fall semester. The chosen student artists were Jill Balkun, Rene Frechette, Raven Lente, Santana Lopez, Nathalia Loya-Marquez, Vanessa Miranda, Angy Sanchez and Devon Segura.
They were chosen based on their ability to draw portraits and their well-defined and unique styles. Over the course of the semester, they met as a group to work on their portrait-drawing skills before the actual event in which they would be sitting in front of their muses and capturing their personalities and appearance.
He came up with the exhibition idea after seeing a student illustrate several portraits of other students for a University publication and decided he wanted to get the students and the campus involved in a similar event.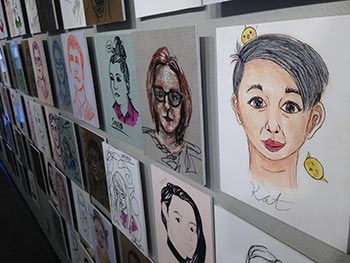 "[The first annual exhibition] was well received. It is a very personal experience having your portrait drawn because people are watching and you're having someone draw a representation of you," explained Bryan.
"In the past, our exhibitions have been more passive because all you could do is come visit the gallery, [but with Face It!] it is active and is a positive experience because it involves the community."
The event was a success because many wanted to have their portrait drawn, and the event brought students together to exchange information and make connections. As each artist put their creative fingers to paper, they laughed and spoke with participants about their classes and lives.
"People find it more comfortable to have their picture drawn because it is a different experience than having your picture taken," said Bryan. "On boardwalks in California, people pay a lot of money for their portrait to be drawn or for a caricature of themselves, [but we did it for free]."
The team was ready to put their skills to work on Nov. 9. The art majors spent six hours in the CUB drawing students, employees and curious passersby. Over 95 percent of the participants were students.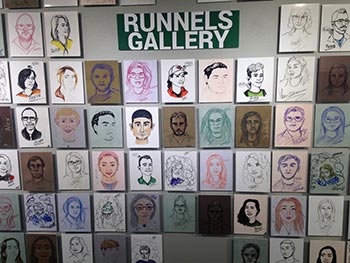 The artists used a variety of mediums, such as colored pencils, markers, graphite pencils and crayons, to illustrate their muses.
The students were kept very busy during the event, as participants came to have their portrait drawn one after another. They had limited downtime and had to draw constantly, but the experience helped the art majors to build stamina and concentration.
After each artist was finished with the 8-inch by 11-inch portrait, they would have their portrait scanned and saved onto a computer for the gallery, and then the participants retained the original copy to take home.
"It is so fun to look at the wall [and the portraits], and guess about who is who and which artist was behind the portrait," said Bryan. "Two girls were in the Runnels Gallery getting ready to study in the carrels and were giggling because they spotted a portrait of somebody they knew."
Bryan said over 200 portraits were drawn that day, most of which are on display in the gallery with a few omitted due to space limitations.
Overall, Face It! was a positive experience and the portraits of your fellow classmates and colleagues can be viewed in the Runnels Gallery on the second floor of Bernalillo Hall or the ENMU Golden Library until Jan. 26.
Bryan Hahn would like to invite everyone to a closing reception at 5 p.m. on Friday, Jan. 26, so take a stroll to the gallery and see if you can spot anyone you know.