Yass, Daniel Franzese is amazing!
When I ventured upstairs to the Campus Union Ballroom on Jan. 24, I was met with a plethora of obvious "Mean Girls" fans. Filled with giddy anticipation, they cuddled up closely to the ballroom door hoping to get a front-row seat.
Famously known as Damien from "Mean Girls," Daniel Franzese booked a comedy tour stop at Eastern New Mexico University for the very first time.
Rey Coss, the interim director of Campus Life, explained that they anticipated 300 students to attend, but they had to pull out an extra 100 chairs for the overflow of attendees.
Luckily for us, Daniel came to ENMU because the University's Associated Students Activity Board was in the right place at the right time.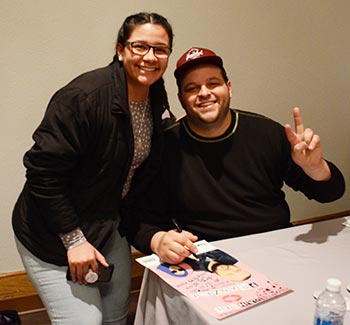 Last October, Rey took a team of eight students to the National Association for Campus Activities conference in Oklahoma to seek and book upcoming performers for ENMU's students. As the team was looking through brochures and pamphlets, they saw they could book Damien from "Mean Girls" as a comedic performer for the upcoming year.
Just as they were in discussion, Daniel walked right past them. They immediately called him over to chat. Rey says Daniel did an Eastern Snapchat takeover then and there, and he booked a stop in Portales.
Daniel Franzese's "Yass You're Amazing!" comedy show at ENMU was full of laughter and had an attentive audience.
Brian Drolet from MTV's The Hills was the host of the show and opened up with stand-up comedy. He wants attendees to leave his shows knowing "that they are in fact amazing."
When planning the comedy tour, Daniel decided that he wanted to reach "the people who think a little bit differently, everything from LGBTQ to body positivity to people with artistic minds… I just knew that it would be great because those are my people.
"I wanted to reach the young, brilliant minds of today and give them a little bit of laughter and sunshine," he said.
Daniel's show was relatable. He joked and covered everything from his Italian roots to his mother to his notable role on "Mean Girls" to his engagement and even to the tumbleweeds that grace New Mexico.
His reflection on his mother's Italian accent is still ringing in my ears, and I have to giggle just thinking about it: Jujutsu system. Asian Roman Numerals. Threatening to marry his Puerto-Rican fiancé if he doesn't.
Basically, you had to be there.
Afterwards, he opened up the floor to answer every question that students had. One student asked if he ever got his pink shirt back (a joke from "Mean Girls"), which he didn't by the way, and another student asked if he could sing "Beautiful" by Christina Aguilera. He did, and it was amazing!
"I just love to sit down and talk with [the audience], that's why I put an [ask and answer] at the end because there are so many different questions they want to ask, so many funny things that are going to come out of that and unique moments like getting up and singing," said Daniel.
"I just love that energy. For some reason, I've been gifted with the ability to make people laugh."
He brought us back to the very first time we watched "Mean Girls," and he showed us why his lines will continue to be the most memorable quotes from the movie.
Once the show was over, he met with every single attendee that waited in a long line to meet him and take selfies.
"Laughter really is the best medicine, and being able to go around and heal people feels so wonderful," Daniel concluded.