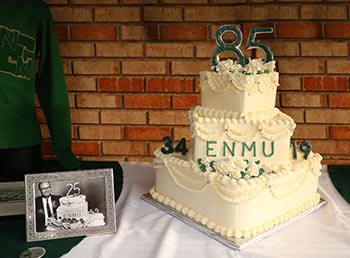 Eastern New Mexico University kicked-off its 85th Anniversary year at the ENMU Foundation's 42nd Annual Summer Barbecue at the University president's home on June 1. ENMU employees, community members and ENMU Foundation contributors were in attendance for the memorable evening.
As a special commemoration for the 85-year anniversary of the founding of ENMU, event attendees were presented with a cake made in the same style as the cake from ENMU's 25th Anniversary celebration in 1959.
"I'm extremely proud to be leading Eastern New Mexico University as it turns 85," said Dr. Jeff Elwell, Chancellor of the ENMU System. "While the 85th birthday is not one that's usually celebrated widely, it's important to recognize the progress that we have made while on our way to the centennial celebration in 2034.
"I, like the nine Presidents before me and the ones that will follow, share a great responsibility to keep the University fiscally strong and academically sound so that it can be here to serve future generations of New Mexicans."
Dr. Steven Gamble, who served as President of ENMU for 16 years before retiring in 2017, said, "For 85 years, Eastern New Mexico University has provided an excellent education that has changed its graduates lives. I am happy to say that this tradition continues today. For over eight decades, the faculty and staff have committed themselves to the success of the students, and the best is yet to come. Go Greyhounds!"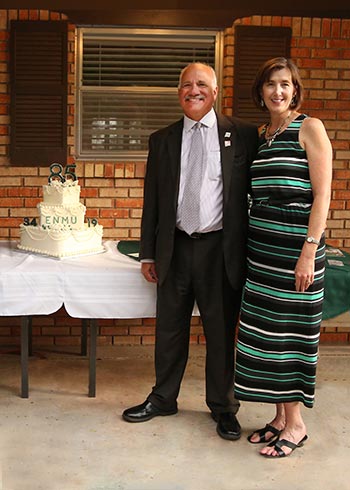 Golden Library Director Melveta Walker, who has worked at ENMU since 1990, shared, "ENMU's students, alumni, faculty and staff are proud to show off the latest and greatest renovation on campus: the Golden Student Success Center which houses the Golden Library, Tutoring and Auxiliary Services and Distance Learning. We have exhibits showing furniture used over the entire 85 years of ENMJC through ENMU, colorful 1934 WPA art, along with some very unique books in Special Collections. The electronic art wall and kiosk are the newest innovations. We have eager students, ready to answer questions or to show others where to look for the treasures within the 'Golden' walls."
ENMU officially opened its doors in 1934 as a two-year college to 145 students for a six-week summer session with Dr. Donald MacKay, who served as the first president. In 1935, the inaugural graduating class consisted of 14 women and three men. The institution began offering four-year degrees in 1940 and awarded 41 Bachelor of Arts degrees in 1941. Soon after, in 1947, ENMU was accredited by the North Central Association of Colleges and Secondary Schools as a four-year liberal arts college. Graduate work leading to the master's degree was added in 1949, and the institution was officially designated Eastern New Mexico University in 1955.
ENMU has seen a great deal of success over the years and has provided engaging learning opportunities through everything from standout academic programs and the Jack Williamson Collection, the third largest science fiction library in the academic world, to national sports championships and numerous fine arts events.
With a campus boasting over $221 million in campus improvements since 2001, facilities including Greyhound Arena, Greyhound Stadium, Golden Library (now housed in the state-of-the-art Golden Student Success Center), the KENW broadcasting station and the beautifully landscaped grounds provide continued opportunities for engagement and enrichment for the lives of ENMU employees, students, community members and visitors.
ENMU continues to follow a mission that focuses on student success, emphasizing liberal learning, freedom of inquiry, cultural diversity and whole student life as the University supports the students and families of New Mexico and the nation.