The 2019 Eastern New Mexico University Foundation, ENMU Alumni Association and ENMU Educator Hall of Honor Awards will be presented at the ENMU Foundation Homecoming Breakfast on Saturday, Sept. 28, in the Campus Union Building in Portales.
Recipients are Wienerschnitzel for Business of the Year, Dr. Gay Su Pinnell for Philanthropist of the Year, and Dr. Jacob and Mrs. Janie Moberly for Volunteers of the Year. For the Alumni Association Award recipients, Donald Bonner, Dr. Lawrence Minks and Karen Salb all receiving the Outstanding Alumni Award. The College of Education and Technology "Educators Hall of Honor" inductee for 2019 is Mr. Rodney W. Wright.
ENMU Foundation Honorees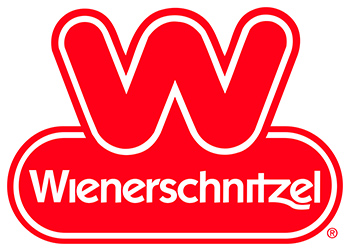 Business of the Year - Wienerschnitzel
James Hailey, Jr., (attended) is a Clovis native. Jim attended NMSU before transferring to ENMU. While at NMSU he started managing his parent's business, Der Wienerschnitzel, in Las Cruces. Before long, Jim returned to Clovis in 1976 to take over the family business, the Clovis Wienerschnitzel location. Under his management, the location ranked #1 in sales in the United States for several years.
The restaurant owner and his wife Joy believe in giving back to the community that has supported the family business all these years. Jim is known for his endless assistance and dedication to the Portales and Clovis communities and schools. Wienerschnitzel has provided hot dogs for the players and coaches after every Clovis High School home football game for over 40 years and after most Portales home games. This quiet behind-the-scenes supply of much-deserved food makes all the difference as the teams recap the night's game strategy and their performance.
For over 20 years, the Eastern alumnus and the Wienerschnitzel team have provided thousands of hot dogs at cost for the ENMU, Clovis, and some Portales and Texico concession stands to help with school fundraisers during basketball and football seasons. "We are happy to do it," stated Jim. "Everything comes around. We've been very blessed by our community, and this is a unique way we can support the schools."
As a member of the Curry County Chamber of Commerce, Jim and Joy believe in giving back to help make the communities better. When ENMU had the vision to build a new stadium on campus, Jim was one of the first to get on board and help with an annual $10,000 corporate sponsorship. Jim knew that the new state of the art stadium would transform the campus and improve the game-day experience for local and visiting fans.
Jim and Der Wienerschnitzel have also helped local youth by supporting the replacement of artificial turf at the Clovis High School Leon Williams Stadium, providing schools with coupons for free food to give to children during award ceremonies and supported many churches with their local projects. Jim is also known to be a fair and unbiased official for the Clovis Football Association for over 32 years.
Jim is proud that his father James (attended), his brothers Douglas (BBA 84), Michael (BS 98), and sister Lendra Hailey (MED 97 MA 97 BS 83) are all Eastern Alumni too.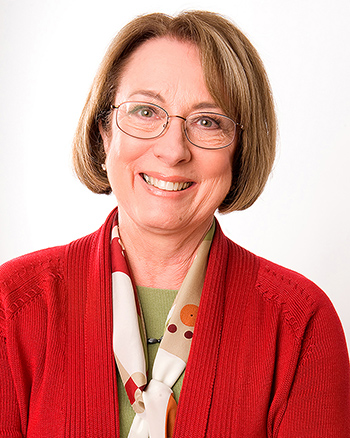 Philanthropist of the Year - Dr. Gay Su Pinnell
Dr. Gay Su Pinnell (BA 66) is Professor Emeritus in the School of Teaching and Learning at Ohio State University. She has extensive experience in classroom teaching and field-based research and is well known in public education for developing and implementing comprehensive approaches to literacy education. Together, Dr. Pinnell and her co-author, Irene Fountas, have authored numerous books, videos and websites that are now considered standards in the field of literacy instruction.
This Greyhound Grad's passion for advancing literacy doesn't end with her profession. In 2017, Dr. Pinnell started a three-year grant to enhance the ENMU Child Development Center (CDC). Her $300,000 grant expanded added a new classroom for two to three-year-olds. ENMU students now have the opportunity to work with this younger age group as required for New Mexico licensure. This generous funding allowed the CDC to focus on the vital fundamentals of literacy and expand the selection of literary materials in a new family-friendly library space. Parents can check out books for home use with their little ones.
The Gay Su Pinnell Education Foundation funds her numerous grants. This past summer, Dr. Pinnell provided Portales Municipal Schools with a kindergarten through fifth-grade literacy grant that included a three-day training. She has provided similar support to the schools in Columbus, Ohio, and is known in her community as "The Book Lady" for her annual summer reading program grant. The program includes backpacks filled with thirteen books and writing materials for children attending all twelve of the Columbus schools. Lesley University in Cambridge, Massachusetts, hosts professional development via funding by Dr. Pinnell and Dr. Fountas' Literacy Continuum.
Her most unique donation to ENMU is still in process to be gifted this winter. Many are familiar with the Casa del Sol home south of the ENMU tennis courts where former owners Dallan and Mickey Sanders used to host large alumni events. The famous Santa Fe architect John Gaw Meem designed the adobe-style home in 1948. Dr. Pinnell is renovating the property staying true to the architect's original aesthetics while reconfiguring the space for ENMU to host seminars, small gatherings, receptions, poetry readings and many other education-related events. The property also includes two modern apartments for visiting dignitaries, distinguished scholars or guest artists.
Dr. Pinnell fundraises as a board member of the Columbus Symphony and as one of the Columbus Metropolitan Library's volunteers who raised $2.8 million for a new Dublin Library. The ENMU alumna serves as the vice president for the Student Education Association to New York and Washington, D.C., and is helping plan the National Education Association Conference.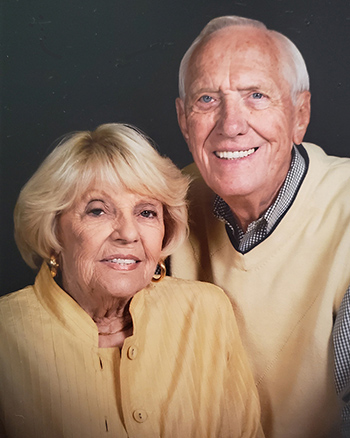 Volunteers of the Year - Dr. Jacob and Mrs. Janie Moberly
Dr. Jacob (BS 55) and Janie Moberly (AA 55) have proven to be one of the most civically active couples you may be fortunate to meet. The two met in first grade in Fields, New Mexico, and have been married over 67 years. As undergrads, the young newlywed Moberlys lived in ENMU Vetville apartments while Jake worked on his biology degree and Janie completed her Associate of Arts in Secretarial Science.
After graduation, both Jake and Janie joined the Alumni Association. After Jake's four years of dental school in Kansas City, they returned to New Mexico where their volunteer spirit struck. Jake became the Alumni Association president shortly after. The two weren't afraid to ask for $50 donations from everyone they knew, and they soon found themselves traveling around the state promoting ENMU.
A select group of alumni decided to establish the Friends of Eastern Foundation in the late 1970s. Jake was too busy to serve on the board because of his dental practice, so Janie was asked to serve instead. Janie became a founding member and the vice president of the foundation later known as the ENMU Foundation. Janie served as vice president for many years beginning in 1978 and continued to serve on the board until April 2019 for a total of 41 years as a board member. Last summer, she was given emerita status and honored with the Greyhound Hero Award.
The Moberlys' community commitment continued to expand. Starting in 1977, Janie served as an ENMU Board of Regent for 12 years. Clovis has been blessed to have Janie's services volunteering with the P.E.O. Sisterhood and the Beta Sigma Phi sorority for nearly 60 years. She raised money for the YMCA drives, volunteered as a church school teacher for Kingswood United Methodist Church, served as a Cub Scouts den mother and assistant leader for a Brownie Troop.
Jake and the other dentists in Clovis started free dental services for underprivileged children. He is a 43-year active member of the New Mexico Bankers Association while serving on the board of the Bank of Clovis. Other highlights of his years of volunteerism include serving on Clovis' Committee of Fifty, New Mexico Boys and Girls Ranch Board, New Mexico Dental Association past president, served on the Clovis Community College Foundation board, past ENMU Alumni Association president, and Clovis Rotary Club longtime member and past president. Jake earned the Outstanding Alumni Award in 1970 and a Distinguished Service Award in 1987.
Jake and Janie truly exemplify what a lifetime of helping others looks like… and they aren't done yet!
ENMU Alumni Association Awards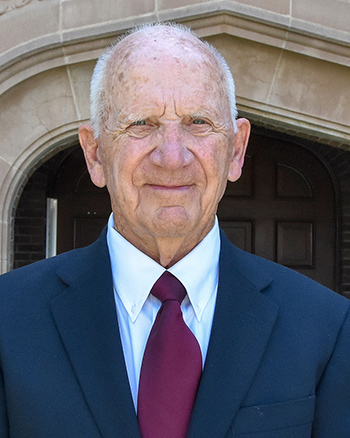 Outstanding Alumni Award - Donald Bonner
Donald Bonner (BBA 62) came to Clovis as an Airman in the Air Force in 1954. He attended ENMU and graduated in 1962. He married Gustenia Johnson, and they have two married daughters, five granddaughters, and two great-granddaughters. Don and Gustenia live in Clovis and have been very active in the community.
Don's early career started at New Tex Outdoor Advertising in Clovis. Don later acquired the Clovis Pepsi Cola Bottling Company. After a few years, he acquired Dr. Pepper and Seven-Up. He operated both for many years before selling. Then he acquired two New Mexico ranches that needed updates. One was between Clovis and Portales. The other was southeast of Raton. He operated both as cattle ranches for several years and turned both into first-class operations.
Don served as a City Commissioner for eight years. He was on the Board of the local Sunwest Bank and the statewide Sunwest Bank. He was one of the Founders of the Clovis Community College Foundation and continues to serve on the foundation board. The ENMU grad also served on the Board of the Mountain States Mutual Insurance Company Board of Directors.
Don and Gustenia have generously supported the Clovis Community College and the Lighthouse Mission. In appreciation, both Clovis Community College and the Lighthouse Mission named buildings in the couples' honor. They are very active in the First Methodist Church, and until recently Don volunteered by driving a van for after school kids programs. Don assists the New Mexico Christian Children's Home in Portales with many of the organization's projects and plans to continue doing so for many years to come.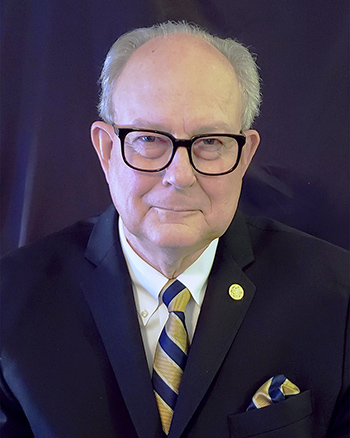 Outstanding Alumni Award - Dr. Lawrence Minks
Dr. Larry Minks' journey from student to president emeritus was made possible through the constant love and support of his late wife Joan and his children Laura, Amanda, Joy and Aaron. He'll be the first to tell you that. Dr. Minks has been involved in higher education for over 40 years teaching and mentoring thousands of students as well as leading economic and community service/outreach, organizational change and leadership development.
Minks received his B. B. A. (1969) and M.B.A. (1970) degrees in business administration from Eastern New Mexico University and a doctorate in business teaching (1980) from the School of Business at the University of Northern Colorado. He completed post-doctoral seminars at the Harvard Graduate School of Education in the Institute of Educational Management (IEM) and the Harvard Seminar for New Presidents (HSNP).
After graduating from Eastern, he spent a year as an Instructor at Ohio Northern University. He then moved to corporate management with Miles Laboratories for five years. Minks returned to higher education in 1976 where he would advance from assistant professor to president. During the span of his academic career, he worked in Ohio, Virginia, Kentucky and Oklahoma universities with positions as professor and department chair, division chair, MBA graduate program director and vice president for Academic Affairs. He was instrumental in transitioning Rogers State University in Oklahoma to regional university status. He then served as executive vice president of Academic Affairs before his appointment as president of Southeastern Oklahoma State University.
Minks served as the president of Southeastern Oklahoma State University from 2009-2014. His tenure culminated as President Emeritus and Distinguished University Professor of Leadership, and director of the Transformational Leadership Program. Following retirement in 2017, he formed Lawrence C. Minks and Associates to continue commitment and dedication to transformational leadership and change.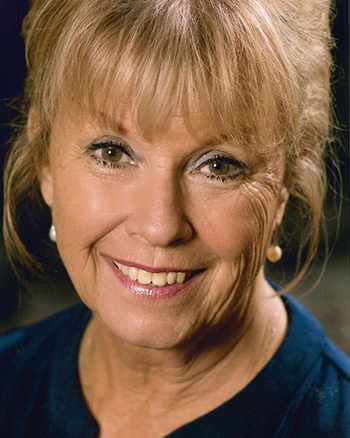 Outstanding Alumni Award - Karen Salb
As an ENMU undergraduate, Karen Salb (BS 76) represented Portales in the 1968 Miss New Mexico Pageant, and in September of that year represented New Mexico in the 1969 Miss America Pageant in Atlantic City bringing home the Miss Congeniality Award. Rounding out her college career, Karen was awarded the President's Award, Who's Who in American Universities and Colleges and Outstanding Young Women in America.
With experience running a dance studio in Portales while attending ENMU, Karen decided to open a studio in Hobbs. Karen and her husband Dr. Thomas J. Salb (MS 72 BS 70) built the Maciolek School of Dance on the corner of Michigan and Jefferson in Hobbs in 1978, one year before their daughter, Teri Elizabeth Salb was born.
The Hobbs Jaycees named Karen Outstanding Young Woman of Hobbs in 1980. She was also instrumental in sponsoring several ballet companies to perform in Hobbs and in 1989 she founded the Maciolek Fine Arts Scholarship Trust.
Karen served on the board of directors for the Southwest Symphony, Viva Santa Fe Productions, Hobbs Rotary Club, Miss New Mexico Scholarship Pageant, Lea County Commission for the Arts and the Salvation Army. In 1992, Karen was a special guest on the Oprah Winfrey Show and published a recipe in the Miss America Cookbook.
Karen became a Rotarian in 1990 and received the Rotarian of the Year Award in 1992. In 2000 Karen became the second female Rotarian President in the Hobbs Rotary Club, and in 2002 she was named a Rotary Paul Harris Fellow.
College of Education and Technology Honoree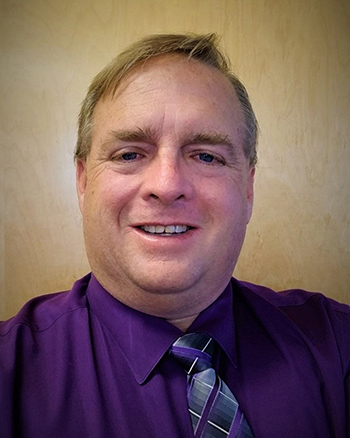 Educators Hall of Honor Inductee - Rodney W. Wright
Rodney Wright (BS 93) graduated from ENMU in 1993 with a bachelor's degree in Social Studies with a minor in Physical Education.
Following graduation, he taught middle school social studies for the Artesia Public Schools while serving as assistant varsity coach for both football and track. From 2001 through 2009, Rodney worked for the Mescalero Apache Schools as head varsity football coach, ninth grade New Mexico History teacher and director of Athletics, Activities and Transportation.
In 2006, the alumnus completed a Master of Educational Administration at New Mexico State University. In 2011, Rodney put that license to good use becoming the Athletic Coordinator for Belen Consolidated Schools. In 2013, Mr. Wright became the principal of Belen High School, where he continues to serve.
He is past president of the New Mexico Association of Career and Technical Education. Rodney Wright is admired for his ability to build teams – whether in sports or among professionals – that inspire trust, integrity and commitment.