A senior at Eastern New Mexico University, Andres proclaims that music is the greatest art form, and is a universal language for all. "Since I started in beginning band when I was 11, I have gained a love for performing in an ensemble or by myself in front of all sorts of audiences and crowds," he said.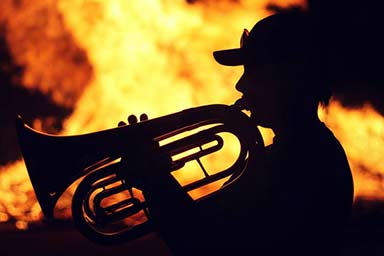 Andres is double majoring in music education with an emphasis in instrumental winds/percussion and music in instrumental performance. You can find him practicing his euphonium, and "spreading joy and wonder to as many people possible."
Growing up, Andres focused on involving himself in theater, band and music. In high school, his band director was a proud ENMU alumnus with plenty of positive things to say about the University's music program and Mr. Dustin Seifert, professor of music.
"The primary reason I chose ENMU is because of Mr. Dustin Seifert and the music professors and faculty… With some help from my band director, I couldn't have chosen a better [university] to learn about music.
"I think the professors are what really stood out in my experience," said Andres.
He explains that the professors have different backgrounds and histories from all over the country. These aspects are crucial to his success because they each have their own perspective on what it means to be a successful person, student, musician and educator.
Andres has achieved numerous accomplishments at ENMU.
"I have been on the Dean's List for a large number of years, a recipient for scholarships-- including the ENMU Foundation Friends of Music Scholarship Competition and the Floren and Mary Thompson Instrumental Scholarship. I have been recognized in being involved with the Greyhound Sound Marching Band and being a proud member of Kappa Kappa Psi and Phi Mu Alpha Sinfonia," said Andres.
Mr. Seifert has inspired Andres to become a teacher in brass studies and music education. His ultimate goal is to be a director of bands and/or a music professor at a comprehensive university.
Andres, born in Albuquerque, New Mexico, and raised in Hobbs, New Mexico, dreams of international living in London because of his interests in English culture and his favorite euphoniumist, David Childs, is from England.
"Whether it's by baton or instrument, solo or ensemble, making a difference in somebody's life through music is fascinating. It motivates me to keep going and improving myself to maintain that goal," he said.
Truly, the power of music and the extraordinary role models that Andres looks up to will have a lasting impact on himself and those he influences.