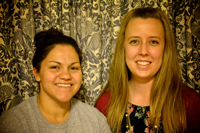 "Going through an unplanned pregnancy alone or with little support is difficult." –Jennifer Senkowsky
ENMU communication student Jennifer Senkowsky and Danielle Cavazos, who earned a bachelor's in English from ENMU, are leading Embrace Grace-Portales, a nonprofit organization that offers spiritual, emotional and physical support to young women who are experiencing an unplanned pregnancy.
According to the Embrace Grace website, the group's goal is to "empower churches across the nation to be a safe and non-judging place for the girls to run to when they find out they are pregnant."
The duo holds meetings every Tuesday evening at The Porch Church in Portales.
Mrs. Senkowsky explained that they are trained to lead 12-week sessions and support the Embrace Grace staff, all of whom have been through an unplanned pregnancy and have "experienced healing and restoration through Jesus Christ.
"The group allows us to build relationships with the young ladies we encounter and allows our pregnant mommas to experience this new adventure together," she continued. "Going through an unplanned pregnancy alone or with little support is difficult."
This semester is the first time that Embrace Grace has been offered in Portales. The current session is still open for enrollment until Oct. 13.
The spring session is anticipated to begin in January, followed by the same schedule in fall 2016.
The program is free and provides tangible and practical support; each session is concluded with a generous baby shower to provide participants with new baby items.
"We do recognize that in some circumstances the best option for mother and baby is adoption, in which case we celebrate that mommy's choice of life for her baby," said the Piscataway, N.J.,- native, who is married with three children and has lived in Portales for six years. Mrs. Cavazos, from Hobbs, has lived in Portales for 11 years and is married with two children.
Mrs. Senkowsky said she and Mrs. Cavazos were "so excited to see God work through this ministry."
There are several ways to get involved with Embrace Grace-Portales, including donations of gently-used baby items and gas cards and/or sharing a talent such as photography, cooking or beauty services.
For more information, "like" Embrace Grace-Portales on Facebook, email [email protected] or call/text 575.309.3171.