Abigail Tarin has graduated from Eastern New Mexico University twice: with a bachelor's degree in business administration with an emphasis in hospitality management in May 2013 and a master's degree in counseling in May 2017.
She chose ENMU because of its small class sizes and distance from Albuquerque, her hometown. She earned a combination of athletic and academic scholarships in addition to the lottery scholarship, making her college education more affordable.
She was "clueless as to what [she] wanted to do at first." She enjoyed math, so she chose accounting.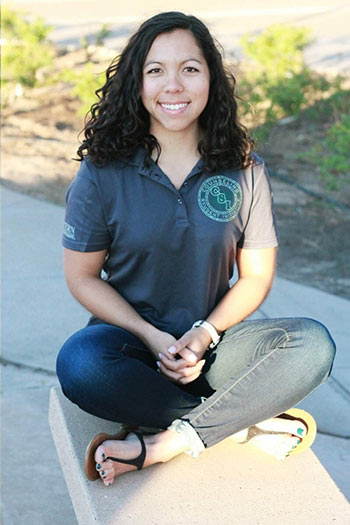 Abigail later decided to change her major. She considered psychology, education and other areas of business before deciding on hospitality management. She chose the major because event planning "intrigued" her.
She received support and encouragement from her family and friends.
Abigail played on the ENMU women's soccer team until the spring of her junior year, when she suffered a concussion. She had to postpone the end of her spring courses until the fall of her senior year.
The combination of 17 credit hours, finishing the finals and coursework from her spring classes and working as a supplemental instructor made the fall semester of her senior year the "most challenging" of her undergraduate career.
"I'm glad I made it through that," she said.
She advises students to continue their education, even if its years down the road. She encourages students to "take your time" in determining a career path.
For anyone unsure of their major, she suggests "trying out different classes, talking the options over with an unbiased individual and/or discussing choices with a career counselor.
"There are lots of paths a person can take to achieve their goals and pursue a career," she said, "even some that have yet to be discovered. There's no one right way to get through college."
She was on the Dean's List several times and was selected to speak on behalf of the College of Business at the honor's convocation in 2013. She graduated with a 4.0 GPA and was pronounced "Outstanding Student in Counseling" in 2017.
"My years at ENMU have taught me a lot about myself as an individual and who I am, in addition to my capabilities," she said.
Abigail grew up in Albuquerque, New Mexico. Her mom held a part-time job, mostly staying at home with her and her two brothers. Her dad worked full-time. The close-knit family emphasized their "faith, education, health and family.
"I was able to do almost anything I wanted as a kid with some hard work and sacrifices," she said.
Abigail graduated from St. Pius X High School in Albuquerque in 2009.
"I was very fortunate to attend a Catholic college prep high school with great values, morals, educational and athletic programs," she explained.
Abigail hopes to use her education and experiences to "help young people develop a sense of identity and pursue their goals in a healthy way."
She wants to have a "lasting impact" on those she encounters by "being kind to everyone she meets." Her goal is to "make our community a more loving place."