Alex Crowson, an English major at Eastern New Mexico University, hopes to make a difference in the world as a teacher.
"I have always seen myself as an English teacher, and I want to travel to other countries to teach English," said Alex, who is from Winslow, Arizona. "I hope to reach out to many students around the world and make a difference in their lives."
Alex plans on joining the Peace Corps after she graduates in the fall of 2018.
The Greyhound community and the low-cost tuition is what attracted her to Eastern, along with opportunities to work, volunteer and study abroad.
"Being at a small campus has helped me exponentially in gaining a one-on-one learning experience from professors," she added.
Robert Graham, a Greyhound Grad and former director of Alumni Affairs at ENMU, mentored Alex during her freshman year. "He encouraged everyone to strive big and achieve their goals, no matter what," she explained.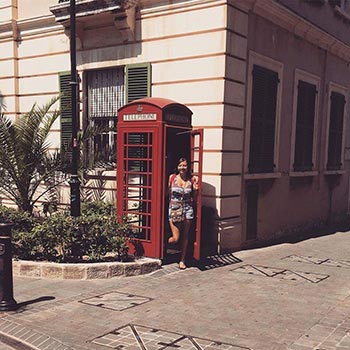 Dr. Carol Erwin, her advisor, also assisted Alex in planning for her future.
Alex, who was a receptionist in the Office of Academic Affairs, currently takes part of Persisting to Achieve College Together (P.A.C.T.) on campus. She helps students achieve academic success in her role as a Title V peer mentor and supplemental instructor for English.
The English major is a resident assistant at Guadalupe Hall. In past years, she was also a resident assistant for Eddy and Curry Hall.
Alex enjoys being around students in the dorms because it is a "home, study area and hang-out spot, all-in-one." She considers the dormitories to be some of her favorite places on campus.
"I have the opportunity to see many students grow as individuals throughout their college years," said Alex, who plans monthly events for students in Guadalupe Hall. "My favorite part about being Greyhound is that there are so many other friendly Greyhounds to meet."
Alex encourages all English majors to check out the resources the University offers.
"I advise anyone involved in English to go to the Writing Center, no matter how confident you are in your work," she said.
She has been on the ENMU Dean's list for four consecutive semesters and received the "Excellence in Beginning Spanish" award, a TRIO Scholarship, the Patricia Griswold Memorial Scholarship, the Larry Razura Scholarship and the Peggy Tozer Memorial Scholarship.
She encourages students to study abroad to gain cultural experience. Alex recently traveled to Spain by taking a "Spanish Cultural Immersion" course.
"It was certainly an incredible experience. I was fully immersed in the Spanish culture, living with a host family in the middle of the city of Malaga, España. I had a host mom and dad and a host baby brother. "This immersion forced me to speak the language and learn how to properly communicate with other Spanish-speakers. My host parents even had small study sessions with me; I would assist them with their English-speaking skills, and they would assist me with my Spanish.
"This experience encouraged me more to continue pursuing my degree field and travel the world with the desire to teach English to other individuals. It also boosted my communication skills in Spanish. I would definitely recommend it to any ENMU student; there will be another opportunity this upcoming summer."
ENMU has many opportunities and resources for students to be successful. Alex added, "It's such an affordable place with such amazing people that truly make it all worthwhile."