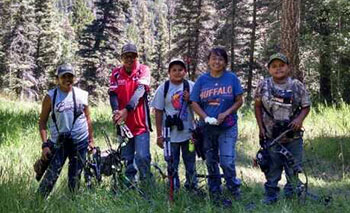 Kaniya Sandoval, a wildlife and fishery science major at Eastern New Mexico University, hopes to become a game warden for the state of Alaska.
"As a game and fish warden, I want to protect the rights of the wildlife," she said of her future career. "I know I will eventually change paths throughout my life, and when that time comes, I am also planning to become a wildlife biologist working specifically with mammals or a fish biologist, still living in Alaska."
The Fish and Wildlife Club member is actively involved with Eastern's biology projects. She helped stock trout at the Rio Grande in Questa, New Mexico, and is currently working on research with Dr. Ivana Mali, assistant professor of wildlife biology, focused on soft ticks in prairie dog burrows.
The Pre-Vet Club member is from Albuquerque, New Mexico. Her mother, Rosella Paxson, is a silversmith and is currently pursuing a degree in pharmaceuticals. She has three younger brothers, Tyrell, Jadi and Clay.
Kaniya shares why she chose to attend ENMU:
"I was visiting colleges across the nation, from California to New York. I was wanted to become an athletic trainer because I played a lot of sports in High School. When I traveled with my brother, Tyrell, we toured two Ivy League universities, Harvard University and Columbia University. I fell so much in love with Harvard that I applied there and got accepted.
"But when I got into archery, everything changed. My whole plans shifted, and I remember touring the ENMU campus during my junior year of high school. When I looked into the programs that Eastern offered and saw 'wildlife and fishery science,' from that point on I wanted to come here.
"It is close to home, a small school and affordable," she added.
Archery is a passion for Kaniya; she travels across New Mexico and Arizona to compete in archery tournaments.
"Archery was what got me interested in being outdoors and being around animals," explained Kaniya, who was elected as Miss Native ENMU in 2016-2017 and has been on the Dean's List for her academic success.
"Biology 110: Introduction to Wildlife and Fishery Science" is one of Kaniya's favorite courses. "Everything that Dr. Mali taught us and all the educated videos about trapping animals and the types of tagging and monitoring really caught my attention; that is what I want to do for the rest of my life, just to be around animals."
She encourages ENMU students to join the Wildlife and Fishery Science Program because it is "a lot of fun learning more about animal habitats and different kinds of techniques. You get to meet new people who are learning the same thing as you and who have a passion for animals."