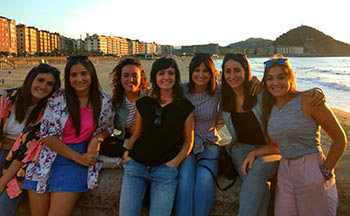 Garaine Oroz Motoso traveled from her home in San Sebastian, Spain, to immerse herself in American culture at Eastern New Mexico University.
"I had always been interested in coming to the USA, and the affordability of ENMU has drawn my attention and made this experience possible," said Garaine, who found out about ENMU from a program at her home university.
"My experience has by far exceeded my expectations! I have learned so much about myself throughout this school year. I have gotten to see how each challenge would enrich me greatly, and how much people's love has helped me feel at home away from home."
She explained that Jacob Mercer, ENMU's international student officer, was "very helpful and supportive with all of the questions I have had." She has also received support from her parents, who encouraged her to join the program, and from her professors at Eastern.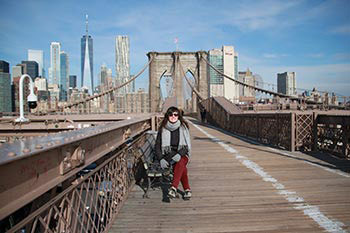 "I got to experience America as I had only seen in movies. Starting from all the love each Greyhound has towards their University, the way they carry Greyhound T-shirts, bottles or hats, and ending with all the beautiful people I got to meet through this University," she said.
Garaine encourages students to join the study abroad program. "Apply for a whole year period. I initially came for just six months, and within the first two months, I realized it was not going to be enough time to deeply immerse in the American experience. And now that this second semester is over, I still think that time has flown very fast."
She advises international students attending Eastern to "get involved in the different events and activities ENMU provides, and to enjoy every single moment they spend here because it will definitely make them grow and meet lifelong friends."
Garaine is majoring in early childhood education to work toward her dream of teaching English to children in Spain and teaching Spanish in the United States and other English-speaking countries.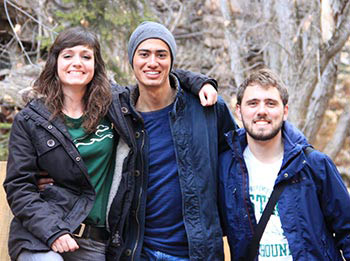 "I aim to teach foreign languages to children, and keep traveling around the world," said the Greyhound, who hopes to receive her Certificate of Proficiency in English.
She participated in observations at the ENMU Child Development Center, where she enjoyed "seeing how children would respond to the activities I would come up with."
The international student encourages Greyhounds interested in teaching to "put their heart in what they want to do. If teaching is what they love to do, I am sure they will do fabulous work. It is important to be passionate and happy with what one does. That will help them to succeed and make a change in both children's lives as well as their own."
Garaine has been very involved during her time at ENMU. She volunteered for Eastern in Action with Multicultural Affairs to help members of the Portales community and taught Spanish to some of the friends she made. During her time spent at the Baptist Student Union on Thursdays, she met "beautiful people who have taught me a lot about the good news."
She performed in plays, including "Antigone," and "What's in the Box?," and enjoyed attending the Theatre Open Lab, where she "gained the confidence to effectively speak in English to the audience" even though she had never acted before.
Garaine loves hiking, sightseeing, surfing, sunbathing, photography, music and spending time with her family and friends. She "really enjoyed" exercising with her friends and on her own at Eastern. "I have gotten to meet people who enjoy exercising as much as I do, and it has been a pleasure learning from their different techniques."