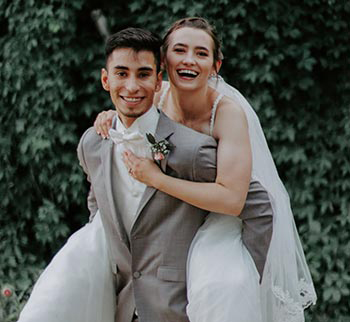 David Aguirre, who is majoring in graphic design and communication with an emphasis in public relations at Eastern New Mexico University, wants to use the skills he's learning while pursuing his degree to make the world a better place. He plans on becoming a graphic designer and public relations specialist for a non-profit organization after graduating this fall.
"I want to support a good cause and make a difference in our society," said David. "When it comes to graphic design and PR, I have always had the desire to make things better.
"I look around and think to myself, 'I could make an impact to help people with their small business or help someone with their vision/idea and encourage them. With the right PR and design, I could help make it happen.'
"In the past, I have done free-lance work, and I love empowering people with a little hope. I am a visionary and motivator. I have always had big ideas, and I would like to help people with theirs'."
David is gaining work experience in the public relations and graphic design fields as a media relations and social media assistant for the Office of Communication Services at ENMU.
He writes features and blogs, creates social media content and designs ads for the University. "I love working there because I get to have experience in a real working environment and the people there are great," he said. "I can see my work published, whether that is my writing or my design work."
David explained how he developed an interest in his fields of study:
"Initially, I wasn't sure if I wanted to go to the college. I am a musician, and I wanted to pursue the music industry, but my dad convinced me to go to college to pursue a degree that will have security. He highly encouraged me to think about my future and told me to work on a degree now so that I could put food on the table for my family in the future.
"It turned out that math and science didn't suit me and so I looked for any degree plan that consisted of the least amount of time in those subjects. Communication was the winner for me. Later, as I got into the core of my major, I really enjoyed it. I saw it as an opportunity to be passionate about something while making an impact of good PR.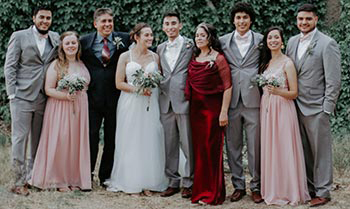 "As a couple of years passed in my degree plan, I fell in love with graphic design. I remember my first graphic design class; I was in Digital Media II. As a beginner, it was so difficult for me to understand the Adobe software, but I remember my professor said my work had potential.
"It was so challenging not to have any knowledge of design while everybody in the class had already taken the prerequisite. But at the same time, it was so rewarding to advance in the class and doing better than some in the class.
"A year later, I declared a second major in graphic design. I realized how many credits I had to finish with two degrees and made a decision that would benefit in the long run. I will be receiving two degrees in four-and-a-half years."
David found that ENMU was the right fit for him because it was close to home (Ruidoso, New Mexico), affordable and had a great community. "I don't think I would have gotten into graphic design if I didn't come here. I love ENMU. I found many life-long friends, including meeting my wife," he explained.
"My favorite part about being a Greyhound is the people I have come across," he said. "The Baptist Student Union has positively impacted my life because I have met good-hearted, genuine people. We serve the college community with free lunch, and we also help first-year students move into their dorms."
David discusses his mentors at ENMU:
"Dr. Patricia Dobson at the Communication Center has been a great blessing in my education. She has helped with my studies and has been a reliable supporter and encourager. Former art professors Mr. David Deal, Mr. Brad Hamann and Mrs. Heather Hancock have been people who pushed me in my art and saw a great deal of potential in me. Mr. Bryan Hahn has also been with there with me through all my art. Dr. Dag Sewell, the director of the BSU, has also been an enormous blessing in my life. He encourages me to pursue a life that is worthwhile, which I believe is only found through Jesus."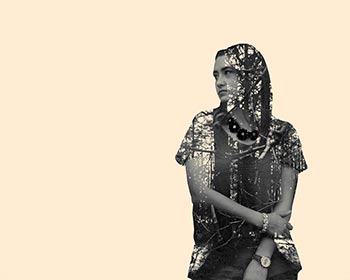 When asked about his favorite place at ENMU, David chose the Golden Student Success Center. "Although the GSSC has not officially opened [Editor's Note: The grand opening will be on Aug. 28 at 5 p.m.], I feel like that will be one of my favorite spots on campus. There is going to be a lot of student activity there, and I like that. Another place that I like is the Mac Lab in the Art an Anthropology building. It's where I do all my design work."
David, who has been on the Dean's List for three consecutive semesters, encourages students interested in pursuing PR and graphic design to push themselves to be better and work at it. "I remember being at the art Mac Lab for hours every day learning the software and working on my skills. For a while, I was addicted to it, and that's what made me better. Passion, that's key."
He is also passionate about being outdoors, hanging out with family and friends and listening to and making music.
David was born and raised in Ruidoso, New Mexico. His father, Miguel, and his mother, Maria, own a computer business. He has three siblings: Miguel, Carla and Andres. Miguel and his wife, Stephanie, live in Tyler, Texas. He works IT for Mercy Ships, a non-profit organization that performs free surgeries to third-world countries with their state-of-the-art hospital ship. Carla lives in Portales with her husband, Matt, and is an accountant for the KENW Broadcast Center at ENMU. Andres is a sophomore at ENMU majoring in business.
David's wife, Kenzie, is an early childhood education major at ENMU. She will graduate this fall. She hopes to pursue a master's degree in applied behavioral analysis therapy.
See more of David's designs and read his blog here.