Thanchira Suriyamongkol, who goes by "M.J.," was born and raised in Bangkok, Thailand. She chose to pursue a master's degree in biology at Eastern New Mexico University because she has always liked animals and being outdoors.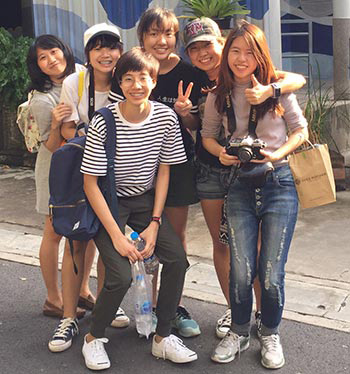 "I have always been passionate about protecting the environment," explained M.J., who moved to the United States eight years ago to study wildlife and fisheries science at Texas A&M University, College Station and graduated with her bachelor's degree in 2016.
She plans on pursuing a career focused on research and conservation work. "I want to make a difference in the world by educating and inspiring people, especially younger generations, to develop a love for nature and biodiversity," she said.
M.J. credits Dr. Ivana Mali, an assistant professor of wildlife biology at ENMU, Chris Figgener, a sea turtle biologist, and Dr. Hsiao-Hsuan "Rose" Wang, a research scientist at Texas A&M University, for motivating her to pursue a career in wildlife biology.
"I have had opportunities to work with many great researchers in the field of wildlife conservation, being inspired by their work ethics, experiences and stories," she said. "Generally, people choose to do things because of their role models, like 'I want to be successful like that,' right? All of my role models just happen to be in this field."
M.J. chose to attend ENMU after a campus visit in 2016. She liked the small campus, which gave her the feeling of "home and family." She thought the area had wildlife species that were understudied and wanted to explore the diversity of animals in the region.
She was also interested in the research of Dr. Mali, who now serves as her mentor, advisor and thesis committee chair.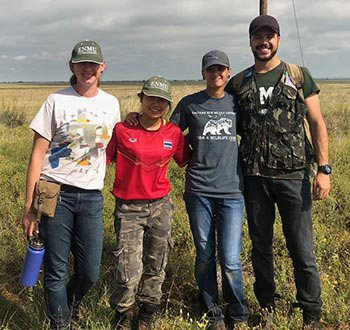 "Dr. Mali is a great professor. She will do anything to help her students to be successful in whichever path they choose. I would go see her to ask for help with literally everything," said M.J., who finds that the professors at ENMU are "friendly and approachable."
The biology student enjoys all of her courses, since "each class is designed to help you develop your skills and prepare you to be successful in your field of study. Many graduate-level classes are discussion based; since all of the graduate students know each other, it makes the classes fun."
The Greyhound works as a graduate assistant, teaching general 100-level biology labs and tutoring at the Biology Laboratory and the Golden Student Success Center. She also works in the museum collections in Roosevelt Hall and the Dr. Antonio "Tony" Gennaro Natural History Museum.
Her advice to students pursuing a degree in biology is to be ready to work hard since many classes require fieldwork and lab work. She recommends pursuing extracurricular activities to "learn as much as you can before you move on to your next step in life."
M.J. has a younger brother, and her parents run a company that produces leather products, such as bags, wallets and office supplies.
Her favorite hobbies include taking naps, traveling and hanging out with her friends. When it rains, she likes to catch the toads at night after the downpour.