Courtney Thatcher, a journalism student at Eastern New Mexico University, has big plans to be the editor-in-chief for a high-end fashion magazine.
"I hope to ultimately achieve a change in the look of the fashion world. I want to redefine what fashion looks like and bring together rivaling companies through the means of overall greatness," she said.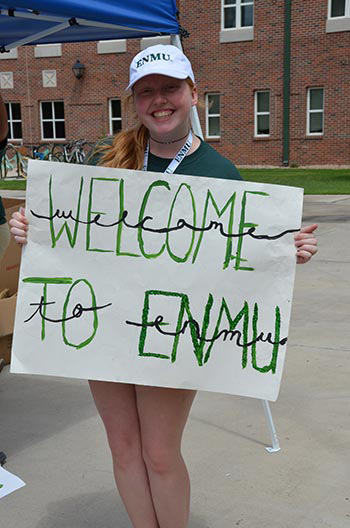 The Greyhound chose her field of study based off a love for writing and an impactful book about a fashion magazine's editor-in-chief. Courtney "absolutely fell in love" with the idea of having a similar job.
She is considering pursuing an additional degree in graphic design and a minor in creative writing to gain experience designing magazine layouts using her content. After graduating, she plans to move to Seattle, Washington, to get into publication work before moving into the magazine field.
The journalism student encourages students interested in her field of study to know how to write hard news since it will be necessary for a majority of the degree's required courses. She recommends investing in a large hard drive because of the number of documents students will need to work on and save.
She adds that having a planner is useful because projects and stories will be due several times a week. "Planning everything in advance and having all of your syllabi written into your planner to know how busy your week is will be beneficial."
Courtney, who is from Clovis, New Mexico, chose to attend Eastern because of the proximity to her hometown and the affordability of the University.
She has had several ENMU professors who have served as her mentors, including Dr. Patricia Dobson, Dr. Steve Bellin-Oka, Shelly Short and Dr. Kerriann Marden. "Every professor I've had has been influential in some way that has helped me," said Courtney, whose favorite courses so far have been "Digital Media" with Jessica Gerlach, "Feature Writing" with Dr. Dobson and all of the creative writing classes.
Her go-to spot at ENMU is the Campus Union. "It is center of everyone's attention. I love how many activities always take place at or around the CUB, and there are several places to sit around and play games or talk or even study and relax between classes."
The junior's favorite part of being an ENMU student is connecting with her fellow Greyhounds. "Having school spirit and being around others who are just as enthusiastic make coming here a joy and makes me feel really connected," she said. "I feel like I've broadened my horizons more now that I've gotten close to so many people and really immersed myself in everything on campus."
Courtney, who works at the Golden Student Success Center and a local restaurant in Portales, is involved with the Associated Student Activities Board and recently joined Zeta Tau Alpha, a women's fraternity. She is the recipient of the Gordon Greaves Journalism Scholarship and has been on the Dean's List every semester.
She enjoys reading, writing, listening to music, going to the movies, binge-watching TV-shows, going to concerts, gardening, cleaning and photography. She also loves spending time with her pets: two dogs, a Great Pyrenees and Great Dane, and a cat. Her mother works at Cannon Air Force Base in Clovis.