Savanna Nelson, who is pursuing a double major in criminal justice and sociology and a double minor in communication studies and anthropology at Eastern New Mexico University, wants to help the victims of human trafficking.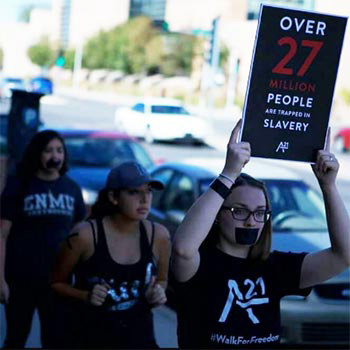 "My career and life goal is to raise awareness for victims of human trafficking and help restore their lives, as well as aid in the prosecution of traffickers in any way that I can, whether as an expert witness or a victim's advocate, helping survivors tell their story," she said.
Savanna chose her double major and double minor to create a customized degree plan that fit her needs for what she wanted to do in her career. "I looked up the classes and selected those I thought would be the best fit for my future career, and that was how I chose which class I needed to take each semester," she explained.
The senior, who will be graduating this December, shared how she chose to attend Eastern.
"I applied to four colleges, and ENMU was the fourth of these. When others fell through, I decided it was time to visit and tour ENMU. However, I was not convinced until few weeks into my first semester here that this was where I was supposed to be. The school's affordability allows a great opportunity for a very good education. The professors care about the students to an extent I did not expect; some professors from my first semester still know me by name which is something that I may not have experienced at the other three alternatives."
Savanna has worked with many professors in her four departments. Her mentors include Dr. Kristin Waldo, assistant professor of sociology and criminal justice, Dr. Chelsea Starr, assistant professor of sociology, Dr. Omar Camarillo, assistant professor of criminal justice, Dr. Andy Nazario, a retired assistant professor of criminal justice, and Donald Raley, instructor of criminal justice. Dr. Waldo and Dr. Starr are her advisors, and she has been able to work with both of them on small research projects.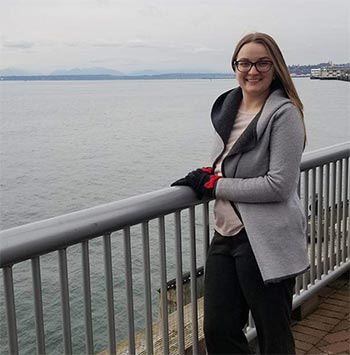 "Dr. Waldo is my advisor for my internship and the two of us, along with another student, have been developing a recovery program for female detainees in Roosevelt County," said Savanna. "Dr. Starr has been helping me with research on cohabitation beliefs at ENMU. They have both helped me stay motivated and encouraged through school, especially through tougher semesters."
Savanna was recognized as the "Outstanding Student in Sociology" for spring 2018 and is the recipient of academic scholarships, the Garland Tillery scholarship and the B June West scholarship. She has made the Dean's List for all the semesters she has been at Eastern and received the lottery scholarship for the same period of time.
Savanna's passion for advocacy, particularly for the victims of human trafficking, is seen in her extracurricular activities. She is involved with A21, a non-profit organization for combatting human trafficking in the 21st century. "My boyfriend and I fundraise for them and participate in their Annual Walk for the Freedom project. We just did that on Oct. 20 and were able to create a team that represented ENMU and Portales in Albuquerque".
In addition, she has spent the last three to four years working with women coming out of sex trafficking in the Albuquerque area on rehabilitation and recovery. "I love these women so much, and there are others like them that I haven't met, but that is my drive for being in school and furthering my education," she said.
She has fundraised for the National Multiple Sclerosis Society and participated for years in the MS Walk in Albuquerque; her mother was diagnosed with the disease in 2005.
Savanna expressed her interest to work with the government in federal law enforcement (Homeland security or US Consulates) advocating for the victims of human trafficking and terrorism.
Another option she is considering is to work as a victim's advocate or an expert witness. "There are not enough 'experts' on human trafficking hence the traffickers get off when arraigned before the court because the jury as well does not understand the depth of what trafficking really is," she explained.
Her third option is to work with non-profit organizations to aid in the rehabilitation of the survivors of human trafficking and its trauma.
Savanna plans to continue with her graduate program immediately. "I have so many interesting options to choose from and have not decided on the specific career path, so I bought myself some time by deciding to go for my masters."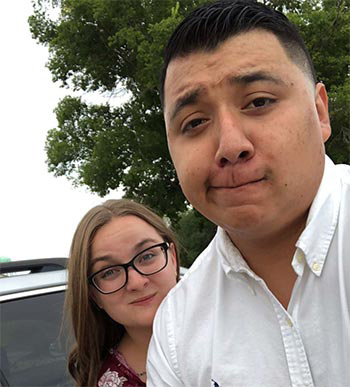 Her favorite place to study at Eastern is the Golden Student Success Center (GSSC). "The vibe in the GSSC is just so comfortable and relaxing to me," she shared. "I spend so much time there as a university tutor and find it the best place for me to relax and get my homework done."
"Collective Behavior" was Savanna's favorite class. "It was about things like social movements, and since I have an interest in working with non-profit organizations dealing with social movements, this class really interested me a lot," she explained.
Savanna loves the Greyhound community. "Students and the faculty members have a strong sense of community at Eastern, and that is apparent at athletic events, during great accomplishments or tragic events in the community," said the student, who has been involved with the Forensic Science Society since her freshman year. She previously worked for TRIO for a year and has been working for TSI for almost two years.
The Greyhound was born in Albuquerque and raised in Edgewood, New Mexico. Her father earned his bachelor's in construction engineering from the University of Nebraska and currently works for a company that sells concrete accessories and other construction equipment in Albuquerque. Her mother, who has worked in several private elementary, preschools and other jobs in the education field, earned an Associate in Early Childhood Education with an emphasis in Childhood Growth and Development. Savanna has an older sister, Lauren, who is six years older. Lauren currently works for the University of New Mexico. She graduated from New Mexico State University with a degree in hotel, restaurant and tourism management.
Savanna loves tennis. "I have played tennis since fourth grade, and I still enjoy playing with my boyfriend when we get the chance."
She also loves singing, playing piano and spending time with her family, friends and her boyfriend and their three puppies.