Damieanus Ochola, an international student from Kenya, has always dreamed of becoming a doctor.
"I come from a country where health is a huge problem. I decided on this field so that one day I can go back home to my country and serve my people by offering the best health care facility to them," the junior said. "I want to specialize in cancer and become an oncologist since cancer is a fatal disease in Africa."
The Caduceus Health Society member hopes to go to medical school after he graduates with a bachelor's degree in biology with an emphasis in pre-medicine at Eastern New Mexico University. "With this, I will go back home in my country and serve my people by working in various hospitals," he explained. "My biggest dream is to start a hospital just for cancer patients in Kenya."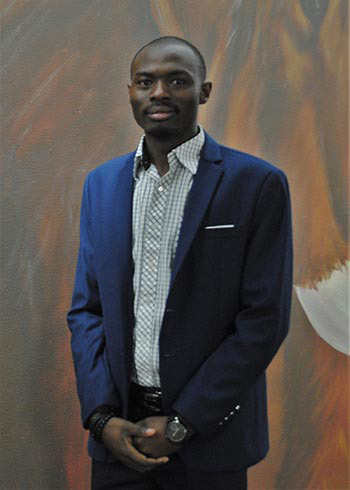 Damieanus, who also has a bachelor's degree in water engineering, has high aspirations for his life, which involve him getting the best education that he can find in the hopes of enabling himself to make an impact on society. "I want to be part of the doctors and researchers to find the cure for cancer," he shared. "This is something I wish to accomplish in this career."
He believes that going into the health field, while interesting, is not a walk in the park. It requires dedication. "Education plus hard work is equal to success. Life is all about what you make it," he says. "The future belongs to those who prepare for it today."
"Anatomy" and "Physiology" are Damieanus's two favorite classes thus far. He said getting exposed to what he would be doing when he becomes a doctor was fun. "Going to the cadaver lab was most interesting as we studied real human beings and not models," says the Greyhound, who learned a lot from the experience and now feels ready for the responsibilities held as a doctor.
Dr. Matthew Barlow, associate professor of biology, has been instrumental to Damieanus's Eastern experience. "He is like a father to me—guiding me in everything I do, especially as an international student trying to fit into the U.S. educational system," Damieanus says.
His dream was always to study at a school in the United States; he applied for three schools besides ENMU. Although he was accepted to all, he chose ENMU mainly due to International Student Officer Jacob Mercer. "He was nice and very helpful," said the international student. "He was efficient in answering emails and elaborating things I didn't understand."
Damieanus also chose Eastern for its geographical location. "I wanted a school in a rural and quiet city that doesn't have a lot of disturbances," he explains. "ENMU has a nice and conducive environment to study. I like the Golden Student Success Center. It looks nice and is very conducive for studying and the equipment in it is highly advanced. I go there every day to study and relax when I am tired."
The academic tutor for Upward Bound in both Clovis and Portales, who has been on the Dean's List since spring 2018, is proud of his Sae-Hsieh International Scholarship.
Damieanus, who served as secretary of International Club from fall 2017 to spring 2018, is the current International Club president and African American Affairs coordinator. He calls those roles his favorite part of being a Greyhound.
"I participated in Mud Volleyball last year to help raise money for scholarships," Damieanus says. "I also organized a carwash for International Club and Multicultural Affairs for the same reason. Lastly, I participated in Eastern in Action, the cleaning of Portales—a university-organized event last year."
Born in Kisumu County in Kenya, Africa, Damieanus has four brothers and one sister, born to his beloved parents, Peter and Pauline Ochola.
He enjoys reading, traveling, cooking, teaching and making new friends.
If in the future at any point do you see a purple Lamborghini on the roads or in a parking lot, chances are its Damieanus—that's his dream car.