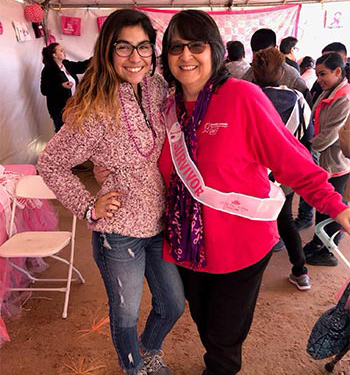 Samantha "Sam" Martinez is graduating this spring, with a major in forensic science and a minor in biology. She hopes to become a pathologists' assistant, which she describes as, "the people that get all the biopsies from people to determine staging for diseases such as cancer, as well as perform the autopsies.
"Ultimately, I want to become a member of the Disaster Mortuary Operational Response Team," Sam states. "This is a team of people who excel in their field and are sent in during natural disasters or other mass casualty situations to help in identifying bodies and other mortuary services. This is important to ensure these families get a form of closure."
This past summer, Sam had the opportunity to complete over 50 hours of forensic science shadowing at the Santa Fe Crime Lab and Christa St. Vincent Hospital in Santa Fe, Presbyterian Hospital in Albuquerque and Petroglyph Pathology in Rio Rancho.
"I chose to go into this field because it is always changing, you are never going to have two cases that are the same, and you get to help people during a traumatic situation which is one of the most important things someone can do," Sam explains.
Sam, who has been on the Dean's List for four semesters, chose ENMU because she was also looking for a new experience away from home. "It was such a change coming here after high school, where I basically didn't know anyone, and there has not been a single day where I have regretted my decision to attend ENMU. I have been able to meet some of my best friends and to truly grow throughout my time here."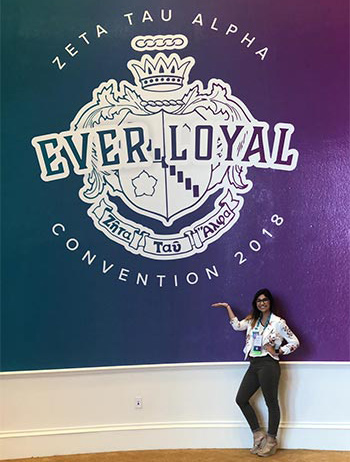 Dr. Kerriann Marden has been a mentor to Sam while she has been a student at Eastern and a member of the Forensic Science club. Sam explains, "She really helped lead me in a good direction for my future and was always there to listen."
The senior has enjoyed all her classes at Eastern, but especially "Survey of Forensic Science," as she learned many different aspects of forensic science and applied the techniques. Furthermore, Sam has greatly benefited from the course "Anatomy and Physiology." She explains, "ENMU is one of the few universities to have an undergraduate cadaver lab and being able to get that type of hands-on experience is truly priceless."
A large majority of Sam's time at ENMU has been spent in different labs in the Science Building, her favorite place on campus.
When she not in class, Sam works for a grant program on campus and for TRIO Talent as a tutor for local high schools and middle schools. She is also active in intermural sports, where her team is the reigning dodgeball champions two years running.
In addition, the Greyhound has been very involved in Zeta Tau Alpha for four years and was elected chapter president in 2018. Last year, Sam represented ENMU and the Delta Pi Chapter of Zeta Tau Alpha at the National Convention in Orlando, Florida. Alongside her Zeta sisters, Sam has volunteered the past four years at the Making Strides Against Breast Cancer Walk in Albuquerque, a cause close to her heart as her mother is a breast cancer survivor.
Sam was born and raised in Albuquerque. Her parents have been married for 34 years. Her father is a custodian at Sandia National Labs, and her mother is an office manager. Sam's older brother has two children.