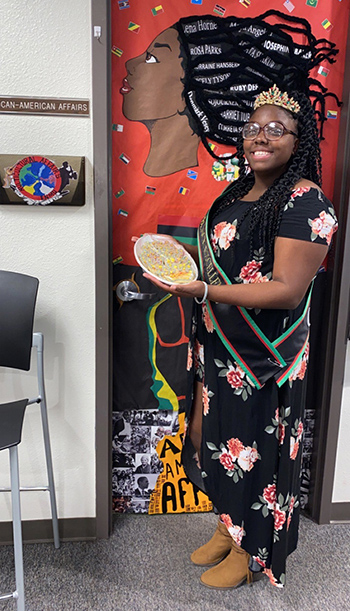 Sinnette Wafer was named Black Excellence 2020-21 during Eastern New Mexico University's Black Excellence Competition during Black History Month. The competition, hosted by the ENMU Office of African-American Affairs, gives contestants the opportunity to showcase their creative abilities by representing black excellence in their culture, heritage and ancestry.
Contestants are free to express their talents using any avenue they choose and are asked to answer a question pertaining to the competition. One student (male or female) is crowned and sashed as ENMU's Black Excellence. The winner holds their title for an entire academic year (February to February) and receives a scholarship for their attributions to Multicultural Affairs and the faculty/student body.
Sinnette discusses participating in the competition and being crowned Black Excellence 2020-21:
Why did you decide to compete?
Honestly, this year, I was not too sure about competing in this competition because public speaking is not my strongest trait, but I knew if I did not compete, there would not be enough people for the competition to go on. I wouldn't want to see the Black Excellence Competition disappear again, so I put all my personal reasons aside step up to plate and put on a show.
How did you prepare for the competition?
The hardest part of this competition to me was coming up with a talent; I changed it a thousand times because I had no idea what I wanted to do. I started with facts that became a poem and slowly became a speech.
What does it mean to you to be named ENMU's Black Excellence?
To be named Ms. ENMU Black Excellence means a lot to me because knowing that I won by what I know and because I am a popular face is great.
What are your responsibilities as ENMU's Black Excellence?
Educate others on my history; there is literally something for everyone in Black History, whether it is sports, writing, dancing, singing, etc.
What part of being ENMU's Black Excellence are you looking forward to the most?
Being able to crown the next Black Excellence.
What advice do you have for students who may be interested in participating in the competition next year?
It doesn't matter if you are not known by many here at ENMU or the shade of black you are; if you are black, you are black, and you should sign up. Even if you don't win, sign up again, so the competition does not disappear.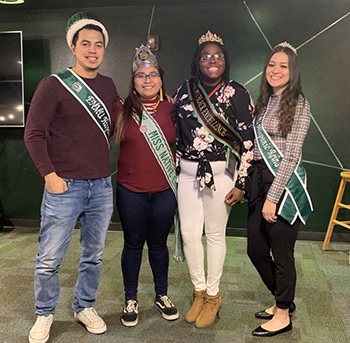 What are your goals?
My goals at being Black Excellence would be to go into the dorms and do something at least once a month, especially during the fall because all the African-American students probably see all the other cultures celebrating and feel like their culture doesn't matter because they are not educated to know that their month is in February.
Tell us about your background.
I am from the small town of Tulia, Texas. I lived there all my life. Yes, it is one of those blink-and-you-miss-it towns. I grew up in a single-mom household, and I know who my dad is; I choose not to talk to him because he is toxic. My mom's name is Stella Wafer. I have an older sister named Kianna Wafer, a half-sister named Brianna Jordan, a little brother named Michael Wafer and a niece named Giavanna. I also have two dogs named Jake and Sugar. I love my family. Family is everything to me; they encourage and support me in everything I desire. Anytime I want to give up, they push me to keep going.
Why did you choose to attend ENMU?
ENMU is far enough from home to make me feel independent but close enough for me to go home if I want to
What would you tell Future Greyhounds about ENMU?
ENMU celebrates many cultures and has plenty of activities going on, so even though it's a small town, there is still something to do.