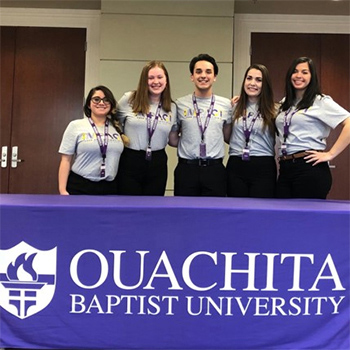 Jordyn Peralta, a senior at Eastern New Mexico University, chose to become a social work major because she has "always had a passion for helping people. Social work touches many people's lives, and I am humbled by the idea of being a part of the process that helps people become the best versions of themselves."
Upon graduating this December, Jordyn plans to pursue a master's degree in social work to open up doors in her future career. Her goal is to work the foster care system of child protective services and open peoples' eyes to the positive impact social workers have in their communities.
"It is no secret that social workers are not always seen as the good guys," she shares. "In my career, I ultimately want to change this reputation for the better. Getting even a few people to trust in social workers again would bring hope to the profession.
Jordyn is working toward her dreams at ENMU. She serves as the vice president of the Student Association of Social Workers (SASW), which focuses on fundraising, advocacy, volunteering and educational opportunities on campus and in the community. This includes visits to the Baptist Children's Home, the Christian Children's Home and the Retirement Ranch, as well as collaborating with other student organizations, like Voice of Educators, the Wildlife and Fisheries Club and the Spirit Squad. "SASW is a very focused group of social workers who are hoping to bring positive change to the world," she says.
The Greyhound has been a President's Ambassador for two years. "I absolutely love the opportunity to meet with prospective students, talk to them about ENMU and be a part of their college experience," she explains.
Jordyn has had many mentors at Eastern: "One person that has believed in me and encouraged me from early on is Diana Cordova, director of Multicultural Affairs. She has always jumped at the opportunity to support me, and I am so grateful for her. Tyleen Caffrey, a social work professor, has been my mentor throughout the program. I have taken all of her classes and continue to grow from her guidance and love for the profession. Jacquelyn Campbell, the coordinator of Recruiting Events in the Office of Enrollment Services, has helped me grow as a leader, and I am grateful to have learned from her professionalism and grace."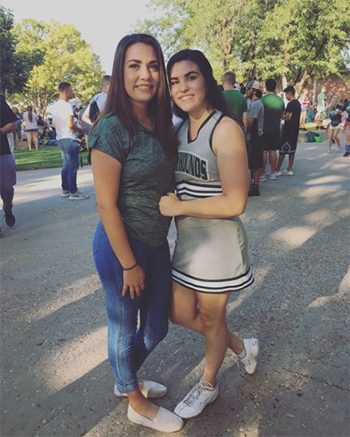 The five-time dean's list honoree's favorite spot on the ENMU campus is the Golden Student Success Center because it gives her the opportunity to "study with friends, take advantage of the resources offered and meet and collaborate with new people, all while enjoying a warm cup of coffee."
The class that has stood out to her the most was Human Behavior in the Social Environment. "This course is the foundation course for social work; it covers theory and human behavior in settings of bio-psycho-social, cultural, spiritual and political influence," she describes.
Her advice to Future Greyhounds interested in pursuing a career in social work is to "become an active member in your community. Find the gaps in service and be the person who advocates for the change. Social work is all about being of service to others, advocating for others and, most importantly, connecting people with the services they need."
Discussing her own Eastern Experience, Jordyn shares that she loves being a Greyhound because the campus is "full of opportunity. Everywhere you look, Eastern offers an abundance of opportunities to get involved, receive help and succeed. The friendliness of the campus, combined with the small class sizes, ensures that you will see and interact with familiar faces, along with meeting new people and creating friendships."
She chose to attend ENMU because of the campus community and the University's focus on student success. "The atmosphere is so positive, and there is always something to get involved with," she shares.
Jordyn was born in Albuquerque, New Mexico, and moved to Los Lunas, New Mexico, when she was 10. She graduated from Valencia High School in 2017. Her younger sister, Ashlyn, is a freshman at ENMU and is a member of the Spirit Squad.
Jordyn's hobbies include going to concerts, spending time with friends and taking care of her dogs, Tuxedo and Bowtie.
2019/2020 Student Association of Social Workers Officers: Stuart Dietz, Jordyn Peralta, Rachael Elbus and Jasiah Ruiz.