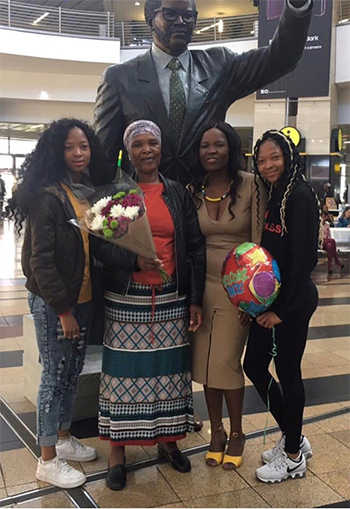 Malethabo Mary Seema, who was born and raised in South Africa, is a mid-distance runner with a focus on 800m and 1500m events for the Eastern New Mexico University track and field team.
She is majoring in psychology and minoring in social work with plans to become a social worker and counselor. She wants to "help people with physical, emotional and mental health issues improve their sense of well‐being, alleviate feelings of distress and help them navigate life's challenges. I've met amazing people who go through the worst in life, and all they ever needed was someone to talk to, someone to listen and someone to be there for them.
"All I hope to achieve while pursuing my career is to try to gain a richer and deeper understanding of people and their life journeys and to be there for someone in need," she shares.
Malethabo chose her field of study because she loves helping people "by talking and listening to them and trying to help them find ways to deal with any obstacles they are facing so they are able to perform at their optimum level. Choosing psychology, I knew it would help me to help others overcome similar struggles and be able to get through life.
"In high school, I was helped by a psychologist, and that helped me deal with problems and get through high school and life in general. I chose psychology because I would like to help others overcome similar struggles and be able to get through life," she explains.
The Dean's List honoree has been mentored at ENMU by psychology professors Dr. Gary Bond and Dr. Leslie Gill. "I've received advice and information about my psychology major from them that was broad and helpful," she shares.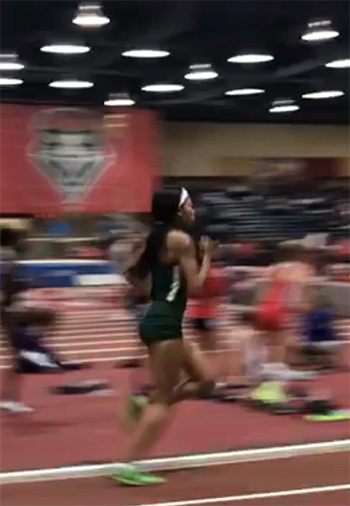 She offers advice to students interested in pursuing a psychology major: "Some people like to help others, which is an admirable trait. If you are enthusiastic and eager about bringing about change to the world we live in today and passionate about helping, then chase that goal/career/life path and go make a change. We also have to bear in mind that life ain't easy and ain't always going to be, but persisting and striving forward after what we truly love is the greatest pleasure we can find. So, go for it, 'one stride at a time.'"
The international student chose to attend ENMU after receiving an offer from Jeff Kavalunas, head track and field coach. "Accepting the offer and choosing to be part of the Greyhound Family was a once in a lifetime chance I didn't want to miss," she says.
The student-athlete's favorite places on-campus are Greyhound Stadium and the Golden Student Success Center. "I always find the most peace when I step to those two places," she shares. "When I run on the track, I just tell myself 'girl, one stride at a time,' and you will get there. The library is where I go and re-focus, to expand myself knowledge-wise. It's always my go-to place because of the quietness I get and appreciate so much while I'm studying with all the useful resources surrounding me."
Her favorite class was a theatre class taught by Patrick McCreary. "He is such an amazing professor," she explains. "At first, I wasn't keen learning about theatre as the first thing that popped out of my head when I heard 'Theatre' was plays, art, live performances. It's a diverse field of study. I've been to a play before in high school, I've participated in drama, watched lots of plays, read novels, did dance and art. It wasn't my best favorite experience, I'd say, but it was fun. But Professor McCreary changed that whole perspective around and made it one great experience this time around. The best thing about theater is that it is a place for self-expression and support. And that's all I ever needed."
Malethabo has three siblings. Her mother is a medical doctor, and her father is a teacher. She loves to travel and wants to visit as many places as she can.