Dat Pham, an electronics engineering technology (EET) major at Eastern New Mexico University, wants to become a technology engineer.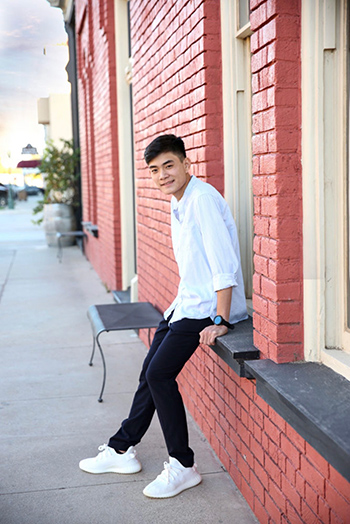 Dat, who enjoys volunteering, explains that his career goal is to "help people achieve bigger goals for the community. Discussing his future job, he shares, "I want to know more about how to apply issues related to electricity, electronics and electromagnetism with many small specialties such as energy, electronics, control systems, signal processing and telecommunications."
"I want to become successful in the future and that is the source of strong motivation for my efforts and actions to rise up. My dream makes me fascinated and excited to pursue my work, making it a goal to strive to never give up," he adds.
The sophomore chose to major in EET to learn about technology and self-monitoring analysis. "I believe that electronics engineering technology will be a solid premise for me to study more about other specialized electrical fields," he says.
He encourages students interested in pursuing an EET degree to take technology courses to understand the field's importance. "We can see that more modern life is indispensable in the presence of electrical and electronic devices, he explains. "These devices are ubiquitous and cater to every human benefit, from living to production. Therefore, electrical engineering technology is always an important discipline in the field of engineering."
The Dean's List honoree was born and raised in Vietnam, and his parents are nail technicians.
He decided to attend ENMU because "the school is amazing and the tuition is not too expensive. The environment is safe and friendly." He shares that his favorite part of being a Greyhound is the campus community, including his professors and fellow students.
Beatriz Villa, the director of American Language and Culture and an instructor for the ENMU Department of Languages and Literature, has served as a mentor to Dat. "I have lived in America for three years, and I'm still struggling with my English grammar," he shares. "She helped me improve my English day by day."
The class at ENMU that has stood out to Dat the most so far is environmental geology since he was able to "learn something new and get to know more about environmental needs."
His favorite place on campus is the Golden Library in the Golden Student Success Center because it is quiet, and he can focus on his homework.
Dat's hobbies include playing soccer, hanging out with friends and playing the guitar and piano.