Manuel "Manny" Rivera is majoring in theatre with minors in digital filmmaking and sociology at Eastern New Mexico University.
Manny, who expects to graduate in spring 2021, spent his freshman year at ENMU-Roswell before transferring to ENMU-Portales.
The Dean's List honoree and recipient of several scholarships discusses his Eastern Experience: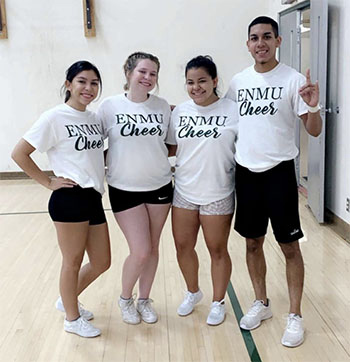 What inspired you to become a theatre major?
I chose this field of study due to the festival the ENMU theatre program puts on in the spring semester every year for high school students in New Mexico. Ever since my freshman year of high school, I fell in love with theatre and everything that comes along with it. This 4-day event is packed with different things. You get the chance to look at the action behind-the-scenes, the works of it all and much more. If one area isn't interesting, there are many more areas to check out in the theatre. The University Theatre Center is also very nice, and I told myself I could see myself spending years in this building.
What do you hope to pursue as a career? What are your career goals?
I hope to become an actor or someone well-known in the film/acting business. I hope to become a well-known name in the world. Whether I become an actor or whatever the case may be, I would like to be known for something I've done and leave things behind to remember me by.
What other dreams do you have?
I've been a state champ in sports I've played, but one dream that would blow me away is to become a national champ or world champ in a sport I play! Another dream I have is to meet a celebrity of my dreams.
What advice do you have for students interested in pursuing a degree in theatre?
I would say get involved as much as you can. In the Department of Theatre and Digital Filmmaking, the theatre side is putting on a show every eight weeks, and the digital filmmaking side constantly works hard to create short films. If one certain job isn't your thing, the department always has other jobs that you can try out and go from there. The department always makes you feel welcome, as well as the students around it. With its small classes, it makes it easier for you to know the other students in the study as well as the professors. The professors are always getting back to you quickly and help when you need it. I have been amazed at how far the professors will go to help me out or get anything fixed for me.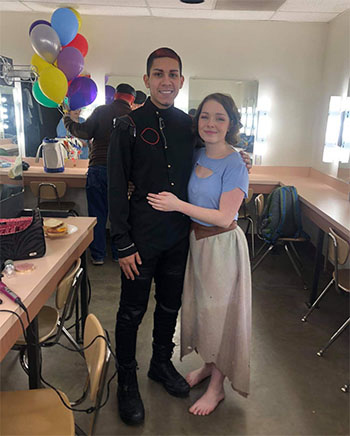 Which professors and staff members have mentored you at Eastern?
Dr. Anne Beck, Neil Rutland, Rick Shepardson, Jon Barr, Scott Hendershot and Betsy Chavez.
Which class has been your favorite?
My favorite class so far has been Beginning Acting with Dr. Beck at 8:30 a.m. This class was honestly very fun not only for acting majors but for non-majors. This was my first class coming into Eastern, and it made my experience more fun!
Why did you choose to attend ENMU?
I chose this school based on the teacher-to-student ratio. Getting the chance to work in a classroom where the professor is able to get back to you quickly is really helpful. With classes being smaller, it makes it easier for you to speak and build your bond with the professor. ENMU is also close to my hometown, Roswell, New Mexico. The drive from home to Eastern makes things easier for me at times, as well. Also, the campus has nice sculptures and other art designs, making it pleasing to the eye.
Which activities are you involved in at ENMU?
I have been a math tutor/student instructor for the past few semesters, worked in the Film cage in the Art and Annex Building, and, this past school year, I took part in an after school theatre program at Portales High School, where I worked with 5-8th graders with Mrs. Ghallager. We helped them get used to being on the stage, backstage or be a part of a crew to help with the whole production. I am also part of the Greyhound Cheer Team. I am also a member of Royal Court All Star Cheer Lubbock.
What is your favorite part of being a Greyhound?
Getting the chance to represent the University wherever I go. While I'm out in public, it feels nice to wear a shirt or some type of clothing that shows I attend ENMU. While in Portales or Clovis, the communities are both nice and helpful, knowing that you are a college student. They two cities are big on ENMU with posters, shirts and many other things hanging inside their stores. Putting on a Greyhound uniform for Cheer is like the cherry on top. Walking out onto the football field or basketball/volleyball court and seeing all the fans proud to represent ENMU is incredible. With the fans behind our backs supporting, it makes us feel unstoppable.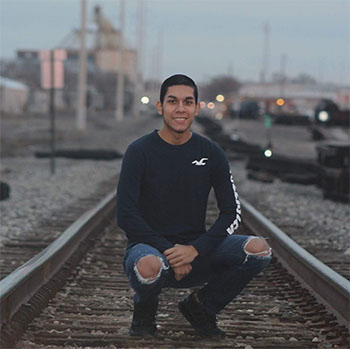 Where is your favorite place on campus?
I would say my favorite place to go on campus is the library. Seeing everyone socialize or study and work hard amazes me. This place has amazing technology, a cool gallery and so many areas for you to study or relax.
Tell us about your family and background.
I was born and raised in Roswell, New Mexico, a town well known for the "aliens," which brings many tourists from around the world. It is a small town but has many things to see. I was born to my parents Stella and Jesus Rivera. I have my brother, Jesus, and sister, Andrea. My father has worked in many fields, including mechanics, city work, repair and much more. My mother has worked with the disabled growing up and healthcare. She always had the pleasure of helping others while being a cancer survivor.
What are your hobbies?
I enjoy cheering for both my teams, college and Allstar, but when I'm not doing those, I have many other hobbies. I play eight different sports, competitive and non-competitive. I enjoy playing baseball, softball, kickball, dodgeball, volleyball, bowling, flag football and soccer. I have numerous trophies from these sports and many other achievements from them. When I'm not playing a sport, I usually work out and get involved with something such as dance classes or something I don't do every day. I enjoy traveling during my free time and spending time with friends.