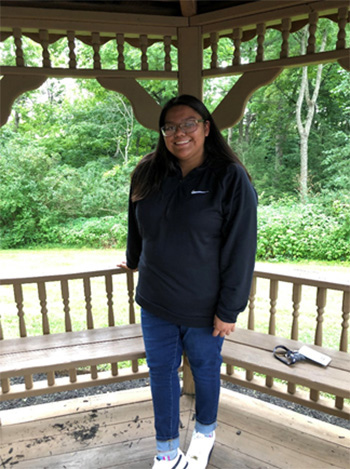 Sydnee Yazzie, who is majoring in biology with an emphasis in pre-medicine at Eastern New Mexico University, was born in Gallup, New Mexico, and raised in Manuelito, New Mexico, which is located on the Navajo Nation. She plans to return to her community after earning a bachelor's degree and completing a physician assistant program to make a "lasting positive impact."
She shares, "I want to come back with knowledge and skills and use what I've learned to benefit my people. I also want to be an example that Indigenous students can be successful in both their traditional world and the modern world without denying the other's existence. To elaborate, I hope to inspire youth in my community of Manuelito that they can go to school and get an education and still have their Navajo roots carry them throughout life."
Sydnee found her passion for the allied health field while taking care of her grandfather, Kee. "I went to doctor's appointments and learned how to give him the best at-home care my family and I could provide," she says. "With that experience, I learned that being there for loved ones and their families is something that I can see myself doing as a career."
The Dean's List honoree is the youngest of three daughters. Her father works as a cook at a local senior center, and her mother is an elementary school teacher.
Sydnee chose to attend ENMU after visiting the campus and learning how the University could support her during her educational journey. "I knew that Eastern would allow me to get a quality education without having the financial stress of getting that education," she explains. "I also knew Eastern would be a place I could grow as a person without having to go far from home."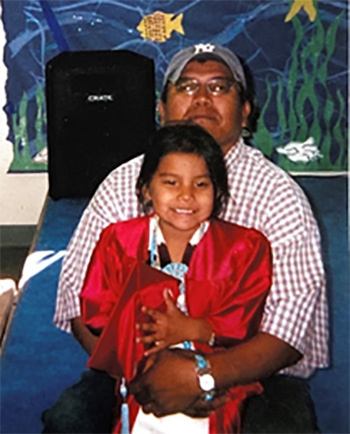 The junior was named a Navajo Nation Chief Manuelito Scholar for 2019 and 2020 and a Cobell Scholar for 2018, 2019 and 2020. Both scholarships have competitive application cycles.
Sydnee shares that her success "has a lot of support behind it. My family is always encouraging, and they are always there for me when I need help. I am thankful for the support I have in my life, and I am very blessed to have something like that in my life. I also want to thank Jeanne, Dennis, Ron and Bryan for supporting me and becoming family."
The Greyhound has been a member of the Caduceus Health Society since her first semester at ENMU. She also became involved in undergraduate research through the HSI STEM Grant. During the spring 2020 semester, she joined Dr. Matthew Barlow's lab that studied vascular deficits in Native American women with Metabolic Syndrome. "The experience that I got was short, but it was amazing," she says. "I was able to start a strong foundation in my research skills, and I'm excited to continue learning how to be the best researcher I can be."
She enjoys spending time at the Golden Student Success Center (GSSC) because it provides a "reliable environment when I need somewhere to study and focus." She likes to visit the Runnels Gallery, an art exhibition space located within the GSSC, to "look at what other students on campus can create."
Her favorite aspect of Greyhound life is "being part of a community that supports one another."
The biology major's hobbies include photography, painting and hiking with her dog. She also enjoys traveling and being able to see new things.
Sydnee (bottom right) with her mother, Marilyn and her two older sisters, KeeAndra (right) and Robyn (bottom left), in 2004.