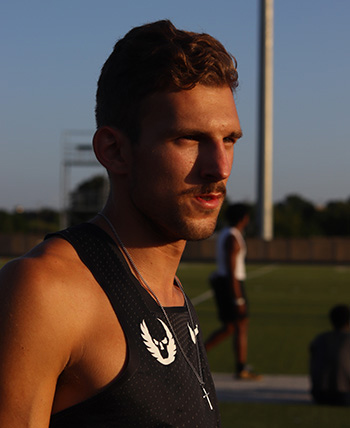 Louis Bolander plans to graduate from Eastern New Mexico University with a Bachelor of Fine Arts in Art with an emphasis in graphic design this fall and become a sports video editor. He wants to work in promotional marketing for either a D1 collegiate athletic program or a professional sports team. Eventually, he would like to create a new, unique way to produce and display sports reels for social media purposes.
Louis is a freelance photographer, shooting portraits, engagements and senior graduations. He dreams of expanding his business to do contract work for big events, such as Super Bowls, NCAA Final Fours and the Olympics.
He was born in Saint Petersburg, Russia, and raised in North Richland Hills, Texas. His mother, Amy Bolander, graduated from Trinity University and worked as an engineer for Lockheed Martin for 35 years. His older brother, Victor, majored in criminal justice and graduated from West Texas A&M.
Louis chose to attend ENMU to compete on the cross country and track teams, where he earned a Greyhound Pride award as a sophomore and held the position of president of the Student-Athlete Advisory Committee. "I also felt like I could get involved with student life and not just feel like another number in a classroom," he says of his decision to attend Eastern. "The students and faculty were and have always been friendly to me since I took a tour as a senior in high school."
Two professors who have helped Louis during his academic journey are Bryan Hahn and Scott Golem. "I give credit to them for helping me create my own trademarked logo and website that displays my work as a photographer and designer.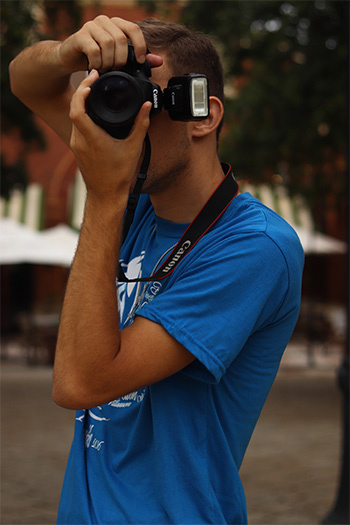 "I also give credit to my boss, ENMU Assistant Athletic Director Ryan Shumaker, for teaching me techniques on action shooting and working with me on producing sports reels for the ENMU Athletics social media accounts," shares Louis, who held a two-year student internship with the Athletic Media department, served as a Greyhound Guide in the Golden Student Success Center and was a studio assistant in the photography studio.
The Dean's List honoree's favorite class at Eastern was Graphic Design 1, where he learned how to use the proper tools to edit videos.
His advice to students interested in pursuing a degree in graphic design is to avoid procrastination. "Although talent is needed to be a great artist, patience is key to creating a masterpiece. Sloppy work equals a sloppy lifestyle, but neat work will get you a neat job," he adds.
Louis enjoys drawing, photography, video editing and spending time at Greyhound Stadium. "I feel free and relaxed [at the stadium], and I can unwind by running in circles," he explains. "I also love being in Greyhound Arena and hanging out with my friends, most of whom also compete in a sport for ENMU."
His favorite part of being a Greyhound is "supporting our athletic organization on campus. No matter what students are in, we all root for each other, because you're not sitting next to students involved in athletics, or in band, or a fraternity brother in class, but rather future co-workers, future employees and future clients. You're sitting next to your future neighbor and your future doctor, and in the end, you realize that regardless of your major or talents, here at Eastern, we are all one unity."