Glory Enemchukwu, who is pursuing a bachelor's degree in physical education with an emphasis in health and wellness at Eastern New Mexico University, plans to become a healthcare service worker or an athletic trainer for a major sports team. She explains, "I hope to be part of a Super Bowl-winning team, and go on to fulfill my ultimate dream of helping more people choose a healthier lifestyle, particularly those who may not be able to afford to pay for such training."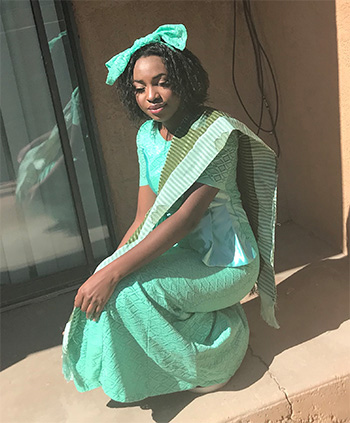 Glory shares the story of how she became a Greyhound: "I chose ENMU because a very nice lady came to drop off the application forms at my high school and gave me reasons to apply to the school. I can still remember most of them. One of them was 'The people are nice, and they are going to help you succeed'; another one was 'No matter if you apply to the school or not, we'll always be glad you're getting an education.' These words really stuck to me till today, and I am glad that when I applied, I got accepted. The people are indeed nice, and I can see a great career up ahead of me.
"My favorite part about being a Greyhound is that I get to be a part of such an accepting and friendly society," she adds.
The sophomore's mentors at Eastern include Dr. Sarah Wall, her advisor, and Dr. Pamela Shuler, her first-year seminar professor. "My advisor has been one of the best mentors I have had and has always believed in me right from my first semester at ENMU," she says. "Dr. Shuler also helped me a lot in my freshman year and was one of the best professors I have had."
Her favorite class at ENMU was a sociology course because of the discussions and interactions that took place. "It has made me view others from different perspectives and understand people better," she explains.
The Dean's List honoree advises students interested in joining her major to "do it! It gives so many opportunities when you are looking for a job because of the diversity in the major. It is not one for the lazy because a lot goes into it, so make sure you are determined when you are going into health and wellness."
Glory enjoys spending time at the library within the Golden Student Success Center because she can concentrate and get her work done while seeing other people interact.
The University Choir member was born and raised in Lagos, Nigeria. She has three brothers, two older and one younger. Her mother works at the University of New Mexico.
Glory attended Cibola High School in Albuquerque, New Mexico, and is a former track athlete. Her hobbies include singing, resting, cleaning and hanging out with friends.