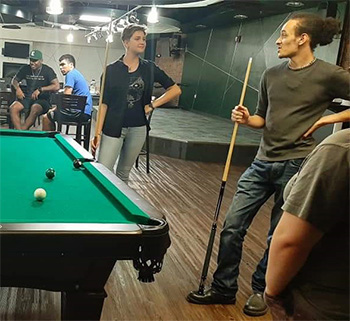 Sierra Beverly wants to teach English as a foreign language overseas in East and Southeast Asia after she receives her bachelor's degree at Eastern New Mexico University or after she obtains a master's degree.
The English major has been surrounded by English teachers her entire life: her mother teaches AP English, her aunt teaches elementary, she has a cousin who is an English teacher in Albuquerque and another who is finishing her degree to teach along with her boyfriend. "It seemed natural that I should be a teacher as well," Sierra says.
When asked about her career goals, the dean's list honoree shares: "The special thing about being a teacher is the ability to shape the way that students see themselves in the future. There have been times where I look back, and I know that if a certain teacher hadn't been there for me, hadn't given me a chance or the guidance that I needed, there was no way that I was going to end up at this point in my life. If I can replicate that in some form, where I can change the way that people look at their future, I will be happy enough."
Her dream is to travel. "I've spent my whole life looking in generally one part of the world when there is so much else there is to see and to learn," she explains. "Ireland and Germany are the top two places I want to visit, and I hope that I'll be able to travel more with the career that I have in mind."
Sierra was born and raised in Albuquerque, New Mexico, with her older brother, a computer science major at New Mexico Tech who is graduating soon. Her mother has been teaching English in Albuquerque Public Schools for more than 20 years. Her father is a physician assistant and runs a mountain guide service in New Mexico.
She chose to attend ENMU for several reasons. The University offered the most competitive scholarships, was the first to contact her and made her feel comfortable in her environment when she first visited. "I wanted to get away from home, and ENMU provided that, as well as providing somewhere that I actually enjoyed being," says Sierra, who added that her favorite part of being a Greyhound is the "nice and welcoming" campus community.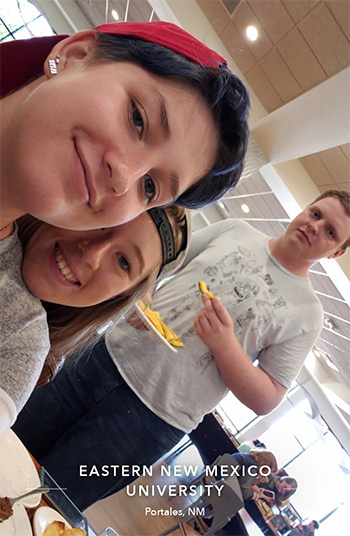 The sophomore has two places she enjoys going to the most on Eastern's campus: the Greyhound Lounge and the Golden Student Success Center (GSSC). "My friends and I go to the lounge to play pool and video games during our free time between classes. It's a general meeting place where if we just have a few minutes of downtime, we can easily meet up there," she shares. "The GSSC is generally more stable to study and work there than it is in the dorms."
Sierra participates in the ENMU Gender and Sexuality Alliance for events and general meetings, as well as Educators Rising a few times a month.
When asked about her mentors at Eastern, she shares that Dr. Kathleen Wagner, associate professor of secondary education, has been the "most prominent professor that's helped me out so far. She's been very understanding with who I want to be and where I want to go for my career plan, and has introduced me to various people that will more than likely be in my life for a lot longer than I could expect."
Sierra's favorite class so far has been Western Civilization: "I have to say that despite my previous uncomfortable relationship with history, Dr. Richard Allington's Western Civilization class has to easily be the class that I liked the most. It was definitely a challenging class, but that's what I enjoyed the most out of it. There was a good balance between what I could do and what was expected of me, so I was able to focus and get work done."
The English major encourages students interested in pursuing a degree in that field to not get distracted. She explains, "You're there for schooling as well as the social environment, so focusing on just the social part of school isn't going to be good for you in the long run."
Sierra stays motivated to push herself to "do better" thanks to someone very special to her. "Despite being a world away from me, I want to make her proud and have her smile, so I work hard to make sure I'm on track with myself and that she's happy with who I am," she says.
The Greyhound doesn't have many hobbies due to a busy school schedule, but she does enjoy spending time with other people when she gets that opportunity. She shares, "My friends and I watch movies together, we cook, play games and systematically make a mess by dying my hair every so often."
A fun fact about Sierra is that she was nicknamed Chad by her friends to differentiate her from several other Sierras they know.