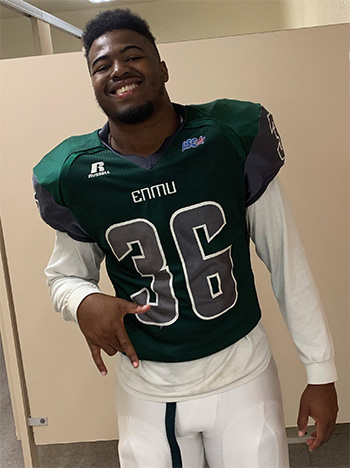 David Kenneth Tirey Jr., who also goes by DJ, is a biology major with an emphasis in pre-medicine at Eastern New Mexico University with plans to become a physical therapist or an orthopedic surgeon.
"I hope to be successful to where my future family is taken care of financially and be one of the top orthopedic surgeons or physical therapists," says the ENMU football player of his career goals, which include aspirations to join the NFL.
The dean's list honoree discusses how he chose his field of study: "During my junior year of high school, I tore my LCL and had to go to physical therapy. At the beginning of it all, I was very sad because it was the week before my football team's championship game. As I spent more time there, my mood began to change. I saw how these physical therapists helped many young athletes and people in general, and I thought it was really cool. I soon thought that this is something I would love to do."
His advice to students interested in majoring in biology with an emphasis in pre-medicine is to "stay determined and organized. There will be a point where you feel like you can't do it anymore, and that is the moment where you really need to decide if it is something you want to do. If it is, then you will push yourself to achieve it."
The Greyhound, who was born in Portsmouth, Virginia, moved to San Diego, California, in second grade after living in Ohio and Florida since his father, David, is a commander in the Navy. His mother, Eureka, is a department manager at Walmart. He has three siblings: Tyrin (25), Breyonna (23) and Peyton (6).
David chose to attend ENMU because the University offered a full-ride scholarship, and it was an "easy drive back to California." He also had a long talk with Kelley Lee, head football coach, where David was "very impressed and respected [Coach Lee] right away."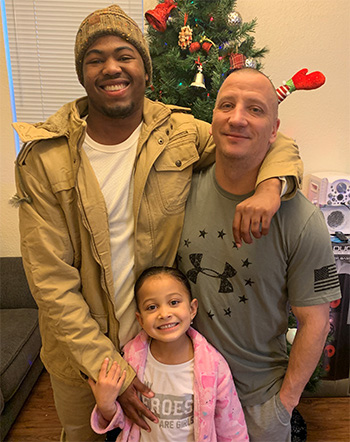 The things David enjoys the most about Eastern include "the brotherhood and how everyone seems cool with each other."
When asked about his go-to spots on campus, the junior shares, "The first would be the Golden Library within the Golden Student Success Center because it is mainly where I get all my homework done. Another would definitely be the cafeteria because I LOOOVVVEE food. Finally, the football field and the gym because they feel like home."
Troy Banther, who teaches public speaking, and Heidi Crates, who taught David's first-year seminar class, have served as mentors to the student-athlete. "Mr. Banther always gave great advice about stuff inside and outside the classroom and was just a great teacher," he says. "Ms. Crates introduced me to the ENMU system after I transferred here my sophomore year."
Mr. Banther's public speaking course has been David's favorite class at ENMU so far because it was "just so fun."
David, who works at Walmart, likes to play the PlayStation, work out, have a good time with friends and sleep.