Raelynn Dusenbery, who is majoring in agricultural education industry option and minoring in visual arts at Eastern New Mexico University, would like to do marketing, social media management or public relations for the communications department of an agriculture business.
The senior, who plans to graduate in the fall of 2021, shares that her degree offers many potential career paths that will help her reach her goal of "giving agriculture a voice. In general, consumers don't always understand where their food comes from, and I think it's important they do so they can make more informed decisions."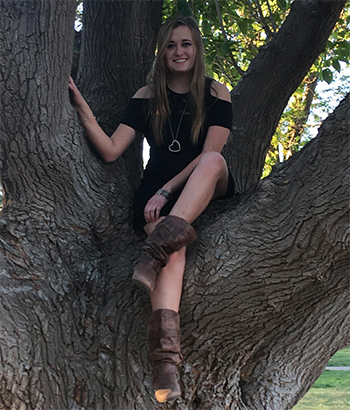 Raelynn chose her fields of study because agriculture has always been a part of her life, and she knew she wanted to work with marketing or design. "This degree is the perfect mix for me because it has many aspects of which I am interested," she explains. "I also feel this degree would help me advocate for agriculture so I can teach those who aren't involved in the industry what we stand for and why it is important that they care about where their food comes from."
To students interested in pursuing a degree in agriculture, Raelynn provides some insights into the program: "The agriculture education industry option degree can be personalized so you can choose other interests to go with it like business, art, journalism, etc. The program has good professors, and the classes are pretty interesting if you are looking at pursuing something related to agriculture communications. I have learned so much in this program and am looking forward to a career where I can apply it all."
Raelynn mentors at Eastern include Dr. Marshall Swafford, her advisor and professor, and her boss Ryan Shumaker, coordinator of sports information. "Dr. Swafford is the one who introduced me to my degree," she shares. "He has taught me so much in the classroom in the many classes I have had with him and gives me reassurance when I start stressing about school or my future. Working with Ryan has taught me about working in the real world and given me an idea of what working in communications is like."
The dean's list honoree began working for ENMU Sports Information her freshman year. "I didn't realize until later how much it relates to my degree and have learned a lot from working with our team," she says.
Raelynn was born and raised in Aztec, New Mexico, with her younger sister, who will graduate from high school this year. Her mother is a high school English teacher, and her father works for his family's business.
She chose to attend ENMU because she was impressed by "how much they emphasize student success. When I came to the senior day, the students were so enthusiastic and made me feel like I could fit in here. I am glad I chose Eastern because I have had a pretty amazing experience while attending school here."
Raelynn is the vice president of the Agriculture Club and a member of Voice of Educators, where she held an officer position.
Her favorite place to study is by the "big windows upstairs in the Golden Student Success Center because I love the view of campus from there, and it is a pretty comfortable place to study."
The course that has stood out to her the most at Eastern was Leadership Development with Dr. Swafford because "we had a lot of interesting discussions in the class. The class helped me see how people work together and communicate from different perspectives."
The aspect of life as a Greyhound she enjoys the most is "being part of the close-knit community. Ever since I came here my freshman year, I have found amazing people who are willing to help each other and see each other succeed. I have met really great friends who I can count on for anything." She also loves attending football games at Greyhound Stadium.
Raelynn's hobbies include drawing, writing, riding ATVs and cooking. She dreams of "traveling around and exploring different places."