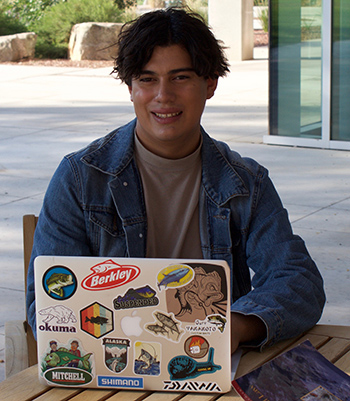 Jose Duran, who is pursuing a bachelor's degree in environmental science with minors in geology and wildlife and fisheries science at Eastern New Mexico University, is looking at a variety of career options, including serving as a game warden. His goal is to "be able to conserve our precious wildlife and natural resources."
Jose chose his major because he loves the outdoors, especially hiking, fishing and looking at interesting rocks. "I chose this field to help protect the environment so I can keep doing what I love," he shares.
The senior, who plans to graduate in the spring of 2021, was born in Delicias, Chihuahua, Mexico, and raised in Clovis, New Mexico. His sister lives in Japan, and their parents work at Cargill, a meat production company. Jose works at Discount Tires in Clovis as a tire tech, where he does free tire checks to help people drive safely.
The recipient of the New Mexico Geological Society Scholarship chose to attend ENMU because it was affordable and close to home. "It is because of those reasons I have been successful thus far," he says.
His favorite aspect of being a Greyhound is attending Associated Students Activities Board (ASAB) events, including a silent headphone party, magic shows, casino night and movie night. "I had so much fun and met so many interesting people [at those events]," he explains.
The class that stood out the most to the dean's list honoree at ENMU was Mineralogy. "This class made me aware that rocks are not just rocks, but an important natural resource that many, including myself, tend to overlook," he says. "I now have an extensive knowledge of minerals that I can annoy my friends with."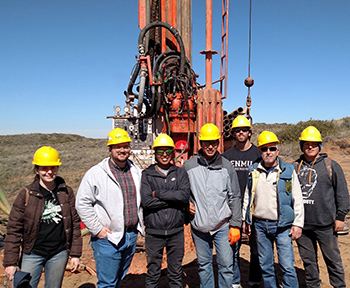 He advises Future Greyhounds interested in studying environmental science to "plan your future classes wisely because some classes are only offered once a year. Additionally, this major is surprisingly filled with field trips. For example, I went to an inactive volcanic site, so expect hands-on learning!"
Jose's mentor at Eastern is Dr. James Constantopoulos, professor of geology. "I am extremely grateful for his help and guidance through my journey at ENMU," Jose shares. "He reaches out to his students, makes learning fun and interactive and provides us many opportunities to travel and visit actual geological sites. If you are reading this, Dr. C, you ROCK."
The Greyhound enjoys studying at the Golden Library, located in the Golden Student Success Center. "There are many places to study privately or in a group setting, and tutors are readily available," he explains.
Jose's hobbies include fishing, exploring hiking trails, camping and baking. "Fruit pies are my specialty," he adds. He would like to become a professional fisherman since he looks up to Jeremy Wade, the host of "River Monsters" on the Discovery Channel.
When asked to share an interesting fact about himself, Jose says, "I adopted three dogs against my will and, yes, they are spoiled."