Mackenzie Haakma, who is majoring in communicative disorders and minoring in health and human services at Eastern New Mexico University, plans to become a speech-language pathologist working with children ages 0-3.
Mackenzie chose to study communicative disorders because she wants to "help children find their voice and use it to become the best that they can be. This field of study will provide me with the opportunity to change people's lives by helping them overcome challenges about communication and swallowing. This field of study will also challenge me, and I love being challenged."
The four-time dean's list honoree hopes to "change people's lives for the better and give people the opportunity to find their voice and learn how to use it. I want to give people hope and be someone that they can come to at any time in their lives."
Mackenzie, who received the Reid Isler Memorial Scholarship for 2020-21, is a member of the National Student Speech Language and Hearing Association (NSSLHA) and works at a childcare center in Clovis, New Mexico. "I have spent the past two years working with children and have felt incredibly blessed to be a part of my students' lives," she says. "Working at a childcare center has taught me that every child is different and that you have to communicate differently with each child."
She was born in Riverside, California, and moved to Clovis when she was in first grade. She has three sisters, Madison, Cassidy and Abigail, and two brothers, Collin and Austin. Her mother and father work at their family-owned dairy in Lariat, Texas.
Mackenzie chose to attend ENMU because it was close to home and has "one of the best CDIS programs around. The small class sizes allow me to ask questions and become closer to my professors."
The senior, who expects to graduate in the spring of 2021, says there are many professors at Eastern helping her toward her goals. "Dr. Rachel Lingnau has been a tremendous mentor to me and has pushed me to be the best that I can be," she shares. "Not only does she help me with her classes, but she also has checked on how I am doing in my other classes and if I am struggling in anything.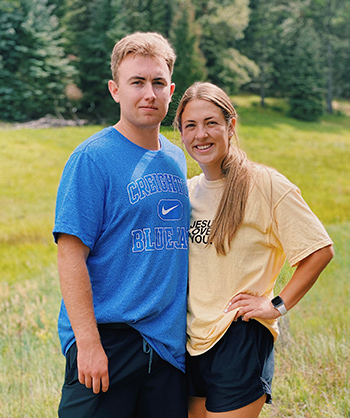 "Another professor that has helped mentor me during my time at ENMU is Dr. Suzanne Swift," she continues. "She has been a tremendous resource for me and is always available to help. She sends me a tutoring schedule each week, along with scholarship opportunities. Her class was the first class I took in the CDIS program, and it showed me that I wanted to pursue a degree in communicative disorders."
Her favorite course at Eastern has been Basic Audiology. "I found out quickly that I also had a passion for audiology, and I loved how it was hands-on the entire class was," she explains. "I gained a tremendous amount of knowledge from the class that I will take with me throughout my career."
Mackenzie's advice for students interested in studying communicative disorders is to "dive into each class and take in the information that is being presented to you. You will use this information for the rest of your career, and it is all very important to what you want to be."
The thing she enjoys the most about life as a Greyhound is "getting to be a part of such a wonderful community. The community supports us in education, athletics and organizations. It is an amazing feeling knowing that you have the support of friends, family and your community."
You can often find Mackenzie at the Golden Student Success Center on campus. "There is always a spot to sit and work on homework in the quiet," she says. "It's a friendly and cozy place to sit with friends and study for your classes."
The Greyhound's hobbies include working out, hanging out with friends and family and going to the beach or mountains. She enjoys playing golf and basketball with her boyfriend. She also loves organizing and doing "anything crafty."
Mackenzie's dream is to travel the world and have a family of her own to experience life with someday.