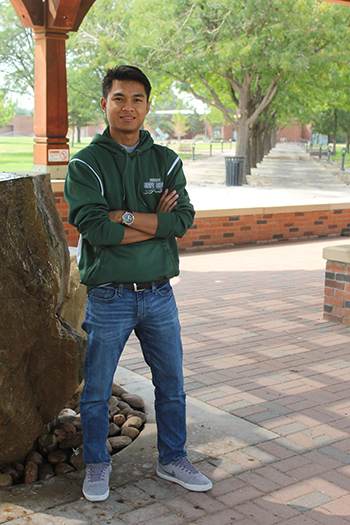 Van Thang, who also goes by Josh, chose to major in art with an emphasis in visual art and graphic design at Eastern New Mexico University because he has loved making art since his childhood in a small village in Chin State in Myanmar. His dream is to teach art to children in his village and other Chin State villages while owning an art gallery and studio in the city.
"My hope from my future career is not to make myself rich and wealthy but to bring hope to my people who are struggling to survive," he shares. "My hope is that hopeless people in villages will find a brighter future through my works."
Van, who plans to graduate in the spring of 2022, recently took a big step toward accomplishing his goals by starting a non-profit organization for orphans and senior widows and widowers in his village. "It is my dream to work with lower-class families in Chin State and inspire their children to go to school," he says.
The junior has three siblings, and his parents work at Tyson Food Inc. in Amarillo, Texas. He chose to attend ENMU because it was affordable and offered small class sizes.
Van shares that his favorite place on campus is the Art and Anthropology Building because "that is where I made most of my successful artworks." He advises students interested in his field of study to "spend as much time as possible in the art building when it reopens."
The class that has stood out to Van the most was focused on painting because it allowed him to improve his skills in that art form. He shared those skills with the campus community earlier this semester with a Zoom webinar where participants could follow along as he completed a four-color painting on a small canvas.
Van has been very involved at Eastern, serving as the vice president of three student organizations, Clay Hound, International Club and ACE+D (Arts, Creativity, Education, and Design), and working as the lead graphic artist for the Office of Campus Life. The four-time dean's list honoree received Best of Show in the K-ENMU Art Show and the Emerging Artist Award for 2018-19.
The art major's mentor at ENMU is Alla Parsons, assistant professor of art and Van's advisor.
His favorite part of being a Greyhound is the "friendly and understanding community."
Van's hobbies include writing songs, playing the guitar and singing.