Alejandra "Lolly" Chavez-Gallegos is a senior at Eastern New Mexico University majoring in biological anthropology with a minor in criminal justice.
The dean's list honoree, who expects to graduate in spring 2021, is working on becoming a part of Alpha Phi Sigma, the honor society for criminal justice. She has worked in the Curation Lab in the Department of Anthropology and Applied Archaeology as a lab tech. She is a member of Chi Omega and the vice president of Mu Alpha Nu, the anthropology club.
She discusses her career goals and Eastern Experience with the ENMU News: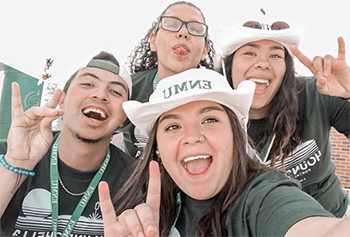 Why did you choose your field of study?
Honestly, it took me a little while to choose what I wanted to do. I've always been interested in crime shows and the human body since I was a kid, and after taking forensics classes and studying more about bones, I felt like it was what I was supposed to be doing. I think what really sparked my interest was taking Zooarchaeology and Forensic Anthropology. Plus, my professors are so passionate about what they teach that it made it easier to find something I too could be passionate about.
What do you hope to pursue as a career?
I have been bouncing back and forth from two careers. One is the Air Force Office of Special Investigations OSI (AFOSI), which provides professional investigative service to commanders of all Department of the Air Force activities. Its primary responsibilities are criminal investigations and counterintelligence services. The other career I am really passionate about is working for the Defense POW/MIA Accounting Agency (DPAA). This is a noble job, and it entails going overseas to recover our fallen soldiers from past wars and return their remains to their families to bury them properly.
What do you hope to achieve in your career?
I just want to serve my country and do everything that I can to bring back our fallen soldiers and return them home. Being remembered isn't something that I want to be known for, but ultimately, I want to be known for doing the right thing.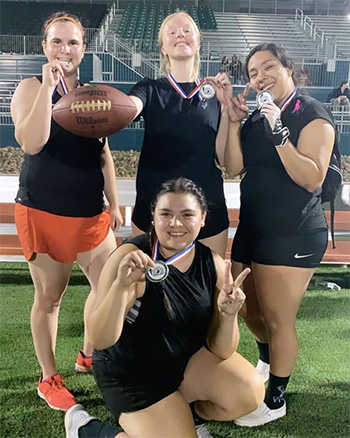 What other dreams do you have?
I played softball all my life, and hopefully one day, I can give back to the sport that his given me so much, and become a coach to teach younger generations about the sport that gave me opportunities and friendships that I hold very close to me. I've always wanted to meet famous people that I've looked up to as well; I got to cross Luke Combs off my list recently, and I hope to meet more people along the way.
Why did you choose to attend ENMU?
To be honest, ENMU was not my first choice, but after my first year, I built bonds with other students like me, and my professors helped me along the way. I also received a few scholarships to help pay for school, and I looked more into which departments flourished here, and the anthropology department is basically my home. The professors here are able to build more personal bonds with us because of how small the classes are, and they make it easier for us to ask questions to get better understandings of our course material. ENMU is the best decision I could have ever made. I have created a second home and family and have so many memories to look back on.
Which professors have helped mentor you?
When I first attended ENMU, Opal Greer was my freshman seminar teacher, and she helped me open up, and I got a lot of tips and tricks to write better essays and papers from her. She also tried to convince me to become an English major at one point. Dr. Omar Camarillo opened my mind to more career opportunities through the criminal justice system. Lastly, Jenna Domeischel, Dr. Brendon Asher, Dr. Heather Smith and Dr. Susan Kuzminsky all helped with my love of anthropology and archaeology.
What has been your favorite class at ENMU?
My favorite class so far has been Forensic Anthropology when Jenna Domeischel taught. This class helped me realize my true passion for forensics, and I loved learning from Jenna; she made this class so fun and interactive, plus she recommended and explained more about DPAA, which is my current dream job.
What advice would you give to students who are interested in your field of study?
I'd say to get involved with extracurriculars and join clubs that fit with anthropology and forensics. In the anthropology department, there aren't that many of us, but we all build close relationships with one another whether our emphases are archaeology, cultural or physical/biological. If clubs are not your thing, you can always try to get a job in the department. As a lab tech in the curation lab, you can get more familiar with lithics, bones and ceramics. The Blackwater Draw Museum and site are also great opportunities for field schools and internships with Dr. Brendon Asher. With small classes in this department, it is easier to connect with fellow classmates and, of course, your professors. They always get back to you ASAP and are there to help and see you succeed.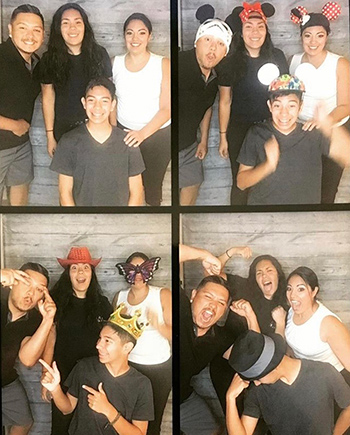 Where is your favorite place on the ENMU campus?
One of my favorite places to be on campus is the Golden Student Success Center because it helps me escape from outside frustrations. I could always go get a study room to study for upcoming exams and socialize with all my friends and classmates. It amazes me how everyone in the library is working so hard to achieve their goals, but sometimes you need a little boost of serotonin from your friends to get the job done.
What is the best part of life as a Greyhound?
Being a Greyhound gives me the opportunity to represent our school everywhere I go. Every chance that I get, I will wear my Eastern gear, whether it be a hat, jacket or shirt, because I'm proud that I attend ENMU. It also gives me the opportunity to talk about our school and tell everyone my experiences and that I highly recommend attending no matter what you want to study. For all the sports events I've attended, students are always proud to rep the green and silver, and never fail to put our hounds up.
Tell us about your family and background.
I was born in Phoenix, Arizona, and raised in Albuquerque, New Mexico. I was born to my parents, Dan and Rose Marie Gallegos. I have a little brother Micah (19), and he is headed off to boot camp for the Air Force soon. My mom is a financial analyst, BTS Operations for PNM Resources, and my dad is a field service lead for Daktronics.
What are your hobbies?
In my free time, I like to draw horror movie characters or cartoons. I've also played about five different sports all of my life, whether it was competitive or non-competitive. Those sports include marksmanship (precision team), softball, soccer, track and field and volleyball. I enjoy fast-pitch and slow-pitch softball and an occasional game of volleyball. Softball was always my passion until I was injured and couldn't play competitively anymore, but I've enjoyed playing the game and building lifelong friendships, and, of course, winning trophies was a plus.
When I'm not playing a sport or drawing, I like going camping and fishing, but I wasn't able to do that this past summer due to certain circumstances. Lastly, I enjoy all things Disney and Harry Potter. My dad and I always joke around when going to Disneyland and get a Dole Whip knowing we're both allergic to pineapples, so we always say, "We'd die happy in the happiest place on earth;" my mom never finds it funny, but we think it is.