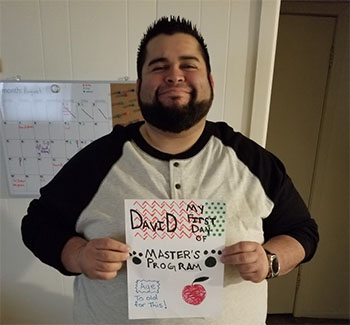 David M. Silva graduated with a Bachelor of Fine Arts with an emphasis in animation, media arts and design from Eastern New Mexico University in 2015, and has returned to the University to pursue a master's degree in communication. David shares that he is a "nontraditional student, so I am a bit old-school and am normally used to taking classes in-person. However, I am slowly adapting to the online platform."
The Greyhound Grad lives in Portales, New Mexico, with his girlfriend, Ashley, who he met at ENMU during their undergraduate days and is currently trying to convince him to get a pet miniature pig.
David serves as the assistant editor for The Chase, ENMU's student newspaper, where he writes, edits and monitors the paper's website.
While he is not currently working on research, the graduate student plans to start focusing on his capstone once the pandemic is neutralized, and the campus is completely reopened.
Another one of David's post-COVID goals is to move to Austin, Texas, with his girlfriend, where the duo plans to open a "one-stop-shop for cakes and specialty items needed for any celebratory event, such as weddings, birthday parties, graduations and anniversaries."
"We would like to play to both of our degrees in the field of study we pursued," David explains. "We believe that both Ashley's background in culinary arts and my experience in fine arts would be a perfect marriage of both our strengths."
David was born in El Paso, Texas, and raised in Hatch, New Mexico, with his older sister, Naomi, older brothers, J.R. and Zach, and younger brother, Zeb. "My mother, MaryEllen, worked extremely hard to take care of my siblings and me, often working two to three jobs at a time," he says. "A lot of my hard work ethic and determination comes from my mother's example and the way she raised me."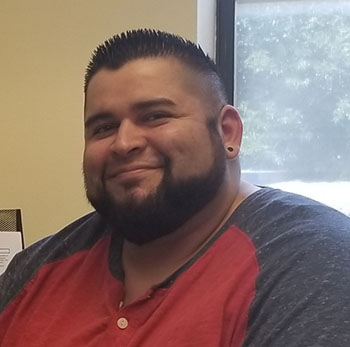 He chose to attend ENMU after taking part in the Upward Bound program during high school. He explains, "Upward Bound helps underprivileged, first-generation kids go onto post-secondary education after high school. Every other weekend, they would allow us to come to the ENMU campus and get tutored in multiple academic courses, thus planting the initial seed of love and admiration I have for this institution."
His advice to students interested in pursuing a BFA or master's degree in communication is to "stay openminded when it comes to positive criticism. Many times, people will take it as a personal attack, but, honestly, it is just a tool to help you get better."
David's mentor as an undergraduate student was Greg Erf, an art professor. "Professor Erf was my advisor, my mentor and my confidant," explains David. "He always believed in me and pushed me when I was scared to take the leap. He was one of the greatest educators I ever had."
Another professor who has made an impact on David is Dr. Patricia Dobson, graduate coordinator for the Communication Program. "Dr. Dobson helped me see the potential in myself, and that has helped me expand my creative outlets into possible career endeavors," he says.
David has enjoyed his time at ENMU. "I can honestly say that I have not had many negative experiences while I have been coming here," he states. "So, I guess you can say that that is probably one of my favorite things about being a Greyhound."
A sequential illustration class he took as an undergraduate has been David's favorite course at ENMU so far. The class, which focused on how to make and draw comic books, appealed to his interests as a traditional artist and director.
His love for creating art started at a young age. "Drawing has always been my passion for as long as I could hold a pencil," says David, who is multi-disciplined in numerous fields of art.