Jonas Kersten, who is majoring in business administration in hospitality management at Eastern New Mexico University, plans to work for a hospitality company in either the United States or Germany. The student-athlete, who is a goalkeeper on the ENMU men's soccer team, is also aiming to become a famous soccer player on a semi-professional or professional team in Europe or the United States after college.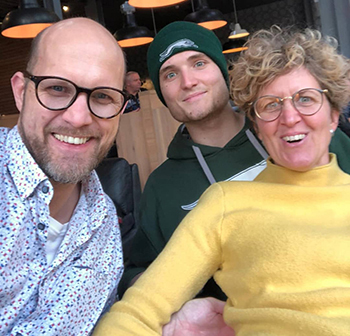 Jonas was born and raised in Rothenburg ob der Tauber, a small, medieval town in Bavaria, Germany, with his two younger siblings. His parents have owned a taxi company since 2016.
He chose to attend Eastern because of the "good soccer team. Jon Fridal, the head coach for men's soccer, made ENMU very interesting. Also, the family environment made a big impact on my decision."
His mentors at ENMU include Coach Fridal and Dr. Mei Reeder, the international advisor, who helped him with paperwork regarding his visa and getting enrolled in classes. Susan Cramp, director of the Advising Center, also assisted Jonas during his freshman year thanks to the Freshman Seminar course she taught.
Jonas's favorite class was Freshman Seminar since it was "fun to learn how everything works at ENMU. Also, college algebra was fun because it was kind of easy for me."
The dean's list honoree decided to major in hospitality management since he wanted to study a mix of management, marketing and accounting.
Jonas enjoys spending time at Greyhound Stadium and the weight room. His hobbies include playing soccer, working out and playing video games.
The sophomore loves being a Greyhound thanks to the "family environment, my teammates and very friendly and helpful people."