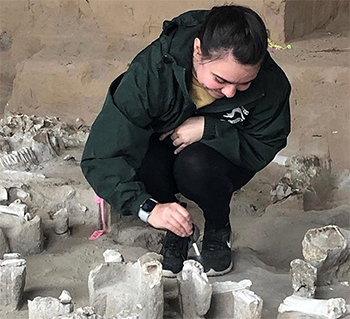 Taylor McCoy is pursuing a master's degree in anthropology at Eastern New Mexico University. She became interested in archaeology thanks to the television show "Bones." "As I took anthropology classes, I became more refined in my interests," shares Taylor, who received a Bachelor of Art in Anthropology with a minor in arts and heritage administration from the University of Southern Indiana (USI) in 2017.
She was pointed to ENMU by Dr. David Bauer, a USI professor, because of her interests. "The Blackwater Draw site was a huge pull because I was interested in the peopling of the Americas and Paleoindians," Taylor explains. "Also, I was offered a graduate assistantship, which gave me in-state tuition along with a biweekly paycheck."
The Greyhound, who lives in Portales, New Mexico, is conducting a geospatial study of Blackwater Draw Locality 1 using documents from previous archaeological investigations at the locality. During her time at USI, she did an internship at a cultural research management firm, where she worked on an ArcGIS project that solidified her interest in geospatial software.
Taylor currently works at SRI, Inc., out of Albuquerque, New Mexico, as a field technician. Her responsibilities include conducting reconnaissance surveys, running handheld GPS units and documenting archaeological finds. After graduating from ENMU, she plans to move to Albuquerque and continue to work for SRI, Inc.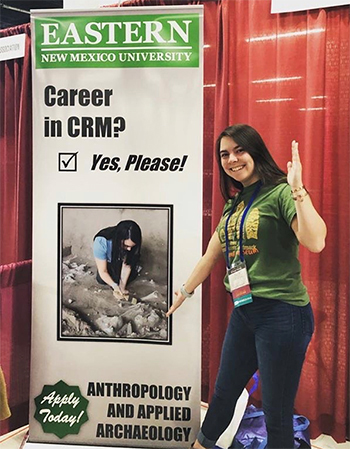 "After gaining some more experience, I plan to try to find a job that allows me to stay in office more and travel less," she explains. "My dream job would be to work for one of the State Historic Sites, such as the Jemez Pueblo."
Taylor was born and raised in Danville, Illinois, and moved to Williamsport, Indiana, in 2006. Her mother works for a company that constructs industrial air chillers, and her father works at Purdue University as maintenance for the steam boilers. Her younger brother, Matt, is currently attending USI. Taylor also has a dog, Zia, and a cat, Zuni.
The graduate student is enjoying her Eastern Experience, especially with how "small and close-knit the school is. Being so far from home, it is nice to walk on campus and always see someone I know. It makes me feel like ENMU is really my home away from home."
Taylor appreciates the sense of community within the Department of Anthropology and Applied Archaeology and has gone to all of the professors and staff for mentorship and advice. She shares, "Dr. Heather Smith, who recently moved to Texas, is my biggest mentor and someone whose advice holds a lot of weight."
Her favorite class at ENMU so far was Geoarchaeology. "I had never taken a course like it, and a lot of classes and concepts overlap in archaeology, so it was nice to take a course that felt completely new," she says. "We also had the opportunity to learn hands-on in the field, which I think is very important."
Her advice for students interested in pursuing a master's degree in anthropology is to "do as many volunteer opportunities as possible to fill up your resume with experience."
Taylor's hobbies include hiking, camping, reading, swimming and kayaking.