Laura Murphy, who is majoring in psychology and minoring in business and health and human services at Eastern New Mexico University, would like to serve as a counselor in the mental health or family field or become a psychology professor.
"I hope that I can help other people's lives and change it for the better," says Laura.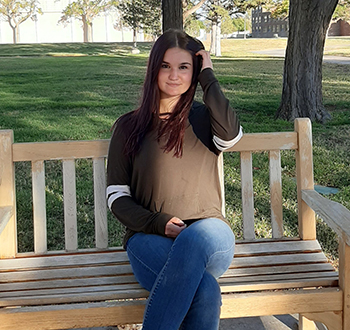 Her lifelong interest in the human brain and how it works, as well as a drive to help others, led her to pursue a degree in psychology. "Understanding psychology will give me the ability to help people who need it," she explains. "I am close to many people who have mental disorders, and I was/am always interested to learn more about them and understand them more, as well as having the ability and knowledge to help those who need it."
The member of Pavlov's Hounds, ENMU's psychology club, was born and raised in Gallup, New Mexico, with her two brothers. Her parents are both teachers.
Laura has had several family members attend Eastern, including her brothers, her father and four out of seven of her father's siblings. "When I was in sixth grade, my family came to tour the campus; I thought it was the coolest and most beautiful campus I had ever seen," she shares. "Ever since then, ENMU was the only college I wanted to attend."
Her favorite place on campus is the Golden Student Success Center. "It has many different resources and is overall a great place to work on homework and meet new people," she says.
Laura, who works for Sports Information within the Department of Athletics, loves the "community and enthusiasm of everyone at ENMU. Everyone is so welcoming and nice,"
The class that stood out to Laura the most at Eastern was Abnormal Psychology. "This class made me critically think about certain situations and how to find the solution," she shares. "It simulated what it could be like once I get a career if I choose this field. The organization of the class was enjoyable, interesting and I honestly had a lot of fun learning about everything that was presented."
The Psychology Research Club member offers advice to students interested in her field of study: "It takes a lot of studying and dedication, but don't let that scare you. If it is interesting to you, it is a lot of fun and enjoyable to learn more about it, which makes it easier to stay committed. If you want to pursue psychology, I would recommend getting a master's degree after the bachelor's degree; it will give way more career options!"
The dean's list honoree's Greyhound Mentor during her freshmen year was Dr. Carol Erwin, a professor of English, who helped her "figure out how to be successful in college, as well as later on when I get a career." She also credits Dr. Leslie Gill, a professor of psychology, calling her a "brilliant teacher with many great ideas."
Laura has a Corgi named Bear and enjoys exercising, weightlifting, playing video games, camping and sewing. Her dream is to travel the world, and "maybe write a book or two."