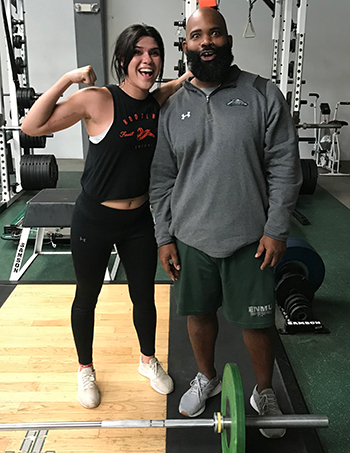 Sierra Montoya, a graphic design major at Eastern New Mexico University, dreams of working as a fashion merchandiser and collection designer for an athletic brand, like Nike, Adidas or Under Armor.
Her goal is to "make people feel good about themselves in aesthetically pleasing and comfortable clothes while learning how to produce the pieces from my own sketches.
"I also hope to provide additional/customizable lines for those with disabilities like myself," she says. "Although I am only missing a few fingers from my left hand and not entire limbs like others I know, it still opened my eyes to a market that has little existence. The disabled deserve to feel confident, especially when putting themselves out in a high-risk situation like going to the gym."
Sierra's dream is to become a person who "spreads love, kindness and positivity. It is a dream I am going to have to work at every single day but know the benefits it will have on the world one day."
The dean's list honoree's passion to "create beautiful things from a young age" and a "hidden talent for working with computers" inspired her to pursue a degree in graphic design.
She offers advice to students interested in pursuing a degree in her field of study: "Know that dedication and effort have to go into every artwork, even sketches, and be prepared for people to dislike what you make but never quit. Take a step back if you have to for recreation and know there is always room for improvement. Art doesn't have to be a job and let it bring you happiness."
Sierra was born in Alamogordo, New Mexico, and raised in Tularosa, New Mexico. She has one brother, two sisters and two stepsisters.
She chose to attend ENMU after her sister Cheyenne Cope, a 2014 ENMU Alumna, brought her on a campus tour during Sierra's senior year of high school. She also received multiple scholarships after being invited to an art and design festival, where she was interviewed by the same professors who teach her today.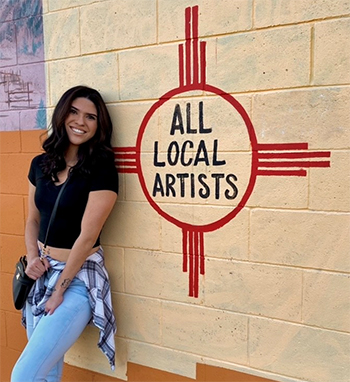 Design II with Greg Senn, professor of art, was Sierra's favorite art class at Eastern since she got to use her hands and tools. Another course she's enjoying is Motion Graphics with Mario Bocanegra Martinez, assistant professor of art; she says the class has "put my creative abilities to the test!"
The junior has received several scholarships during her time at Eastern, ranging from a Fine Arts scholarship to a three-semester women's basketball book scholarship to the Lorraine Shula Endowed Scholarship.
Her extracurricular activities include two years as a student assistant for the women's basketball team, one year as a thrower for the track and field program, serving as an online marketing assistant for New Mexico Hemp Services in Santa Rosa and working as a server for Buffalo Wild Wings.
The Greyhound's favorite thing about ENMU is that "no matter what corner I turn around, I know I have support and guidance."
Sierra's mentor is Larry "LV" Varnado Jr., the University's strength and conditioning coach. "LV could possibly be Eastern's greatest asset when it comes to motivation," explains Sierra. "He does not care about hurting your feelings and will push your limits each time you enter his gym. All you have to do is bring your mindset. He recognizes and appreciates hard work.
"Coach Prock, Jennings and KK on the women's basketball staff are all wonderful mentors when it comes to faith," she adds.
Sierra shares that her go-to places to spend time on campus are "at the library with Briana Rodriguez drinking our favorite ice coffees, in the MaxPAC getting swole with Heather Arias and eating pizza with Jasmine Gannon during halftime at any sports event."
The self-described Lakers fan's hobbies include painting, weightlifting and playing the ukulele.
(L-R) Sierra, her mother, Vaunda Montoya, her brother, Joe Montoya, and her sister Cheyenne Cope.