Kameron Bowers, an accounting major with a minor in communication studies at Eastern New Mexico University, plans to become a Certified Management Accountant (CMA) and serve as a direct report to the head of a company.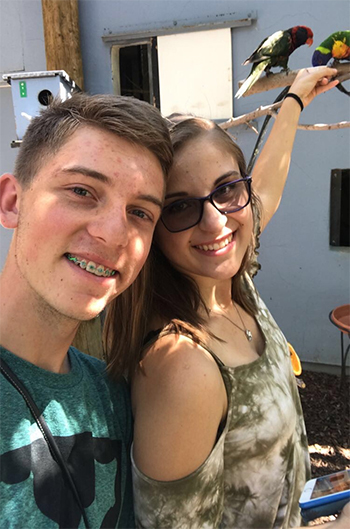 "I enjoy looking into statistics and coming up with logical solutions," the sophomore says of his choice to major in accounting. His advice to students interested in his field of study is to try to take accounting classes in-person and "find the motivation to learn in the class. I personally have a competition with another classmate to see who will pass with a higher grade by the end of the year."
After receiving his bachelor's degree, Kameron plans to return to ENMU for a master's degree. His dream is to have enough time outside of his career to "explore the many details and experiences in the world traveling."
Kameron, an only child, was born and raised in Rio Rancho, New Mexico. He moved to Albuquerque, New Mexico, during his freshman year of high school. His father is the regional manager of Caterpillar (CAT), and his mother is a state accountant.
The dean's list honoree, who serves as a tutor and a recreational leader at a community center in Albuquerque, chose to attend ENMU because he "felt more at home" at Eastern than he did while visiting other universities. Another aspect of the University that sealed his decision was the key lime pie served on Senior Preview Day, which he describes as "delicious."
Kameron loves the community at Eastern. "Everyone at ENMU genuinely cares about each other, and we all just want to like each other," he shares. "[Attending Eastern] is a memory I will never forget, and I've made many friends I will always remember. Getting out and making memories is what makes me a Greyhound." He hopes to maintain lifelong friendships from his time in college.
His favorite place on campus is the Golden Library within the Golden Student Success Center, thanks to the group study rooms. He also likes going to the weight lifting room in Greyhound Arena.
The course that has stood out to Kameron the most so far was a yoga class where "both the instructor and class itself taught me a lot about appreciating the world around us."
His mentor at ENMU is Dr. Kayhan Koleyni, an assistant professor of economics. "Dr. Koleyni has been a large factor in encouraging me to try new things on campus and believe in my abilities," says Kameron.
Kameron's hobbies include bowling, tennis, working out, playing video games, drawing and listening to instrumental music.