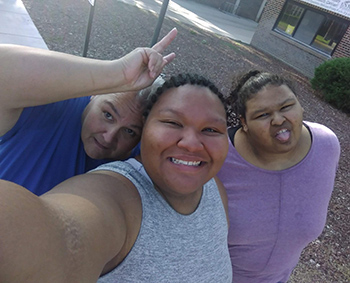 Valencia Owens, a double major in psychology and sociology with a minor in criminal justice at Eastern New Mexico University, plans to become a psychological profiler for the FBI or a prison psychologist.
"Ultimately, I would love to be able to provide consultation on criminal cases as a criminal psychologist and teach criminal psychology at the university level," she shares.
The head coordinator for the Associated Students Activities Board (ASAB) has "always found the human mind an interesting subject. Seeing how the process of the human mind has changed along with society changing as well is completely fascinating to me."
Her advice to students interested in her fields of study is to "keep pushing through. Once you've learned the basics and you get into all the theories and know them and then get to see them in society and in people themselves, it so cool to see what you've learned actually happen."
A class that stood out to Valencia was Contemporary Social Theory. She enjoyed learning about how theories have changed and evolved over time.
Several ENMU staff members have mentored the Office of Campus Life student employee. She says that Reydecel Coss, the coordinator of Campus Life, and Linda Ramos, the coordinator of the Campus Union, "have helped me grow into who I am," and Charles Reader, an administrative office coordinator of the Golden Library, "helped shape the person that I am."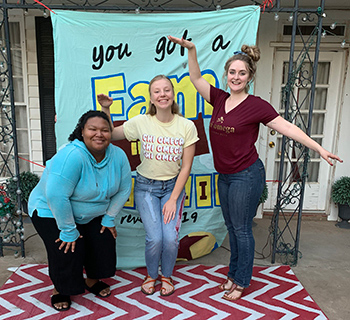 Two faculty members she has learned a lot from at ENMU are Dr. Gary Bond, professor of psychology, and Dr. Michelle Schmidt, assistant professor of sociology. "In the conversations I've had with them, they were always very intellectual, and I left learning something each time," explains Valencia.
The Chi Omega member's favorite spot on-campus is the Campus Union (CUB). "The CUB is always a bustling place for people to be; some people are studying, some are just hanging out and others are just passing through," she says. "It's never a dull moment in the CUB."
Valencia was born in Baltimore, Maryland, and moved to Las Cruces, New Mexico, at age nine. She has a younger sister and older brother. The dean's list honoree chose to attend ENMU because of the University's size. "Eastern is smaller compared to other universities, and I knew I wouldn't get lost in the sea of other students that would be attending," she shares.
Her favorite parts of being a Greyhound are the school spirit and sense of togetherness within the campus community. "You go to any building or function, and someone you know is going to be there," she explains. "It's so cool how we all take pride in being a Greyhound."
Valencia enjoys attending events hosted by the First Presbyterian Church in Portales, as well as playing the stand-up bass and piano.
The double major loves writing and plans to publish a book someday. "What type of genre and the level of the book is a mystery, but it is a goal that has little to nothing to do with my education and field of study," she shares.